Today's Guardian, includes an article, Revealed: the secret evidence of global warming Bush tried to hide
It reports that he Obama administration has declassified about 1000 spy satellite images that dramatically show the effects of global warming.
- Advertisement -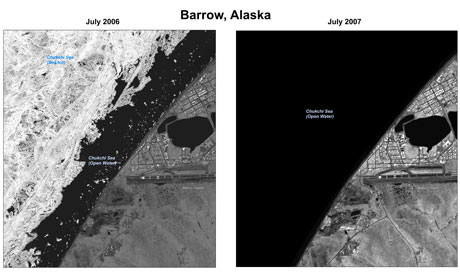 One particularly striking set of images - selected from the 1,000 photographs released - includes views of the Alaskan port of Barrow. One, taken in July 2006, shows sea ice still nestling close to the shore. A second image shows that by the following July the coastal waters were entirely ice-free.

The photographs demonstrate starkly how global warming is changing the Arctic. More than a million square kilometres of sea ice - a record loss - were missing in the summer of 2007 compared with the previous year.

Nor has this loss shown any sign of recovery. Ice cover for 2008 was almost as bad as for 2007, and this year levels look equally sparse.

"These are one-metre resolution images, which give you a big picture of the summertime Arctic," said Thorsten Markus of Nasa's Goddard Space Flight Centre. "This is the main reason why we are so thrilled about it. One-metre resolution is the dimension that's been missing."
The problem is, according to Jane Lubchenco, Head of National Oceanic and Atmospheric Administration (NOAA), funding for satellite resources for studying and continuing the monitoring of climate change geography has diminished.
Not surprisingly, the Bush admin's philosophy was, if you don't know about it, it's not a problem.