According to FOX News Memphis, "former Journalist Kevin McKenzie (who provided a video of the incident)... told FOX13 at least four African-American men were escorted out of the ( Wolfchase Galleria) mall for violating the mall's code of conduct. Security guards could be heard saying in the video that the men were being removed from the mall because they were wearing hoodies. The code of conduct policy for the mall states people must wear appropriate clothing. It doesn't specify what type of clothing."
McKenzie was also escorted off the property and arrested shortly after.
Four white women heard about the racial profiling and challenged the mystery dress code by walking around the mall in hoodies.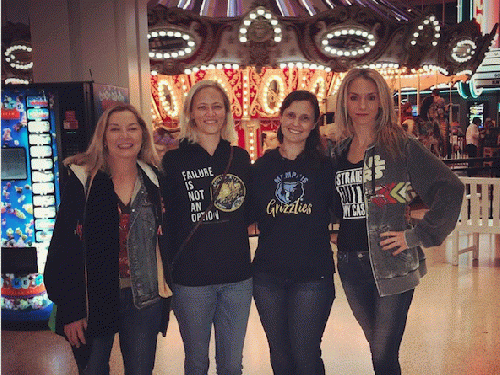 Shannon Arthur (far R) with Sherry L. Ennis, Rye Ellen and Rebecca Erickson-Geller at Wolfchase Galleria.
(
Image
by
Shannon Arthur
)
Details
DMCA
Shannon Arthur (far right) posted this on her Facebook page: "We four white women walked more than a mile through the Wolfchase Galleria wearing our hoodies and our privilege, just to see what would happen. This is the same mall where several young black men were recently kicked out, roughed up, and/or arrested for allegedly violating an unposted no-hoodie policy, and a bystander was also arrested for documenting the injustice with his smartphone."
White privilege does not come without responsibility. These women's response to racial profiling was practical, do-able and ethical, just the kind of stance that white people need to be taking to help bring balance to our country.
And, as the photo shows, their good works seem to be punctuated by halos.