From Greg Palast Website
Stacey Abrams and Greg Palast review Georgia Purge list 2014
(
Image
by Photo by Zach D Roberts)
Details
DMCA
Days ago, I received a call from Stacey Abrams' lead attorneys. Our investigative team had "gold," as they put it, for litigating the election: Expert analysis proving 340,134 voters were wrongly purged. Plus, we had, on camera, victims of the purge, including the 92-year-old cousin of Martin Luther King.
But I'm a journalist, not a campaign operative. I could only offer my reports and my affidavit filed in federal court in Common Cause v. Brian Kemp.
With Stacey Abrams no longer in the race for Governor, we are now free to open our files to her new voting rights group, Fair Fight Georgia.
Did you note that Abrams cited our story of 92-year-old Christine Jordan purged from the voter rolls? That should give "Governor-elect" Kemp pause. Because that's the signal that this heartbreaking story will become the hammer to smash the Kemp-created Jim Crow machine.
(And Ms. Jordan is up to the task, telling me she's willing to take the fight into federal court, "If somebody will help me walk there.")
The immediate weapon will be litigation against the State of Georgia to show that the election was hopelessly tainted, which, under Georgia statute, could result in a court throwing out the whole rotting dung-heap of an election. That is why Abrams technically did not concede, but rather dropped her claim to office. (Lawyers will understand that she has to maintain "standing.")
Abrams vocally took up the issue of the massive purge of voters -- and intends to defend those purged. This is what's really historic about her candidacy. Yes, Abrams is the first African-American woman nominated for governor by the Democratic Party. More revolutionary is that she is the first Democratic candidate to demand an end to racist ethnic cleansing of the voter rolls. (If Al Gore had taken that stance in 2000, maybe Stacey would be Governor today -- and, hey Al, they'd be calling you Mr. President.)
Our investigation produced the facts -- and the names and addresses of the 340,134 voters wrongly purged for supposedly moving out of Georgia or out of their congressional districts -- but never moved an inch.
We are now free to hand over those lists to the Abrams litigation team, the NAACP, the SCLC, ACLU and others who are opening courtroom fronts. We are talking with them all.
And my own suit against Kemp and his successors continues in Atlanta federal court with my co-plaintiff, Helen Butler, Executive Director of the Georgia Coalition for the Peoples Agenda. That group was founded by the Rev. Joseph Lowery, now 97. When I described to him the details of Brian Kemp's voter-roll trickery, he said, "It's Jim Crow all over again."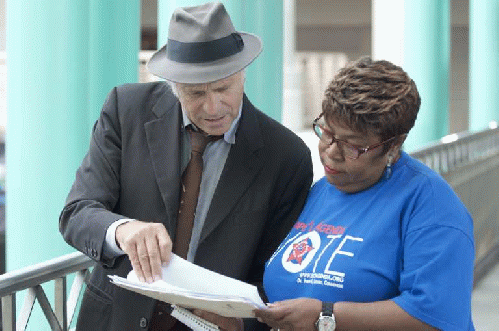 Co-Plaintiffs Palast and Helen Butler are suing Brian Kemp
(
Image
by Photo by Zach D Roberts)
Details
DMCA
There was no despair in Lowery's voice about America's new backsliding on civil rights. Rather, he and Helen are up for the fight.
If Rev. Lowery and Christine Jordan are up for it, can we do anything but join?
And the battlefront is wide. While we're suing in Georgia, attorneys for the Palast Investigative Fund have also filed notices of suit in 25 other states that employ the Kemp-Kobach voter-erasing games. (Yes, Kris Kobach is the man in Kemp's shadow. Kobach provided Kemp with 106,000 of the names Kemp wrongly purged. Surprised?)
(Note: You can view every article as one long page if you sign up as an Advocate Member, or higher).