This piece was reprinted by OpEdNews with permission or license. It may not be reproduced in any form without permission or license from the source.
From Consortium News
Ex CIA analyst Ray McGovern
(
Image
by
YouTube, Channel: Ruair McKiernan
)
Details
DMCA
I was wrong. I had been saying that it would be naïve to take too seriously presidential candidate Barack Obama's rhetoric regarding the need to escalate the war in Afghanistan.
And surely he would be fully briefed on the stupidity and deceit that left 58,000 U.S. troops -- not to mention 2 million to 3 million Vietnamese -- dead in Vietnam. I kept thinking to myself that when he got briefed on the history of Afghanistan and the oft-proven ability of Afghan "militants" to drive out foreign invaders -- from Alexander the Great, to the Persians, the Mongolians, Indians, British, Russians -- he would be sure to understand why they call mountainous Afghanistan the "graveyard of empires."
John Kennedy became President the year Obama was born. One cannot expect toddler-to-teenager Barack to remember much about the war in Vietnam, and it was probably too early for that searing, controversial experience to have found its way into the history texts as he was growing up.
But he was certainly old enough to absorb the fecklessness and brutality of the U.S. invasion and occupation of Iraq. And his instincts at that time were good enough to see through the Bush administration's duplicity.
And, with him now in the White House, surely some of his advisers would be able to brief him on both Vietnam and Iraq, and prevent him from making similar mistakes -- this time in Afghanistan. Or so I thought.
Deflecting an off-the-topic question at his March 24 press conference, Obama said, "I think that the last 64 days has been dominated by me trying to figure out how we're going to fix the economy. ... Right now the American people are judging me exactly the way I should be judged, and that is, are we taking the steps to improve liquidity in the financial markets, create jobs, get businesses to reopen, keep America safe?"
Okay, it is understandable that President Obama has been totally absorbed with the financial crisis. But surely, unlike predecessors supposedly unable to do two things at the same time, our resourceful new President certainly could find enough time to solicit advice from a wide circle, get a better grip on the huge stakes in Afghanistan, and arrive at sensible decisions. Or so I thought.
Getting Railroaded?
It proved to be a bit awkward Friday morning waiting for the President to appear... a half-hour late for his own presentation. Was he for some reason reluctant?
Perhaps he had a sense of being railroaded by his advisers. Perhaps he paused on learning that just a few hours earlier a soldier of the Afghan army shot dead two U.S. troops and wounded a third before killing himself, and that Taliban fighters had stormed an Afghan police post and killed 10 police earlier that morning.
Should he weave that somehow into his speech?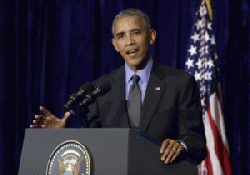 Obama: Instincts told him he was about to do something he will regret.
(
Image
by White House Photo)
Details
DMCA
Or maybe it was learning of the Taliban ambush of a police convoy which wounded seven other policemen; or the suicide bomber in the Afghan border area of Pakistan who demolished a mosque packed with hundreds of worshippers attending Friday prayers, killing some 50 and injuring scores more, according to preliminary reports.
Or, more simply, perhaps Obama's instincts told him he was about to do something he will regret. Maybe that's why he was embarrassingly late in coming to the podium.
Next Page 1 | 2 | 3 | 4 | 5 | 6
(Note: You can view every article as one long page if you sign up as an Advocate Member, or higher).