(This is a reprint from NewsBred.)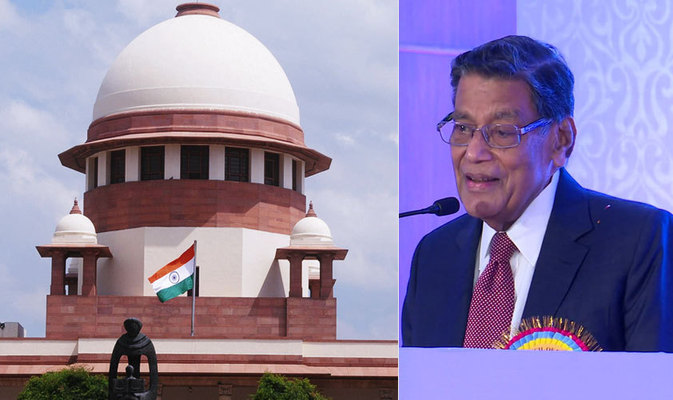 Supreme Court and KK Venugopal
(
Image
by
newsbred.com
)
Details
DMCA
The reaction of the Supreme Court, rather of one Justice K.M. Joseph, that Right to Information Act (RTI) cannot be held back because of Official Secrets Act, if it pertains to charges of "corruption and human rights", is a valid point and must be welcomed.
A related news, again welcomed, is that Supreme Court would hear the plea of Patricia Mukhim, editor of Shillong Times, who as per a Meghalaya High Court order, was made to sit in a corner of the courtroom and fined Rs 2 lakh, as was the publisher of the newspaper, Shobha Chaudhari.
Readers must be told the background of both. In the first instance, Advocate General K.K. Venugopal had pleaded that intelligence agencies and others were exempted from the RTI Act for the documents on internal security, attached with the review petition on Rafale, fell under the Official Secrets Act. In the second instance, Shillong Times had published articles related to the perks and facilities for the retired judges and their families. The Meghalaya High Court had chosen to treat it as "contempt of court" and came down heavy on the editor and publisher of the newspaper.
It's as good a moment as any to put the focus on "Contempt of Court" action, which should only be applied when there is interference and disruption caused with malicious intent in an ongoing case. However, criticism of a judgment or a judge often leads to invocation of the dreaded law. In the past "contempt of court" has been evoked indiscriminately, as in the case of Shillong Times presently for questioning issues involving perks of judges and their families. How can judges be judges in their own cases?
In a democracy, "contempt of court" sounds like a king dictating his subjects rather than an institution out to serve people the same argument that has been put forward to disallow Official Secrets Act a free pass.
Two famous "contempt of court" cases come readily to mind. One involved E.M.S. Namboodripad, a communist leader from Kerala, who invoked Marx and Engels in a public speech where he viewed judiciary as an engine of class oppression. Namboodripad was convicted for contempt of court even though the Communist leader kept emphasizing that he had not cast aspersion on any individual judge. The matter went to Supreme Court where it upheld the conviction, holding that "attack upon judges", which is calculated to raise in the minds of the people a general dissatisfaction with, and distrust of all, judicial decisions weakens the authority of law and law courts.
The second case was in 2002 with the conviction of Arundhati Roy for contempt of court. The writer had accused the Supreme Court of "stifling dissent". She was booked for scandalizing the court.
A background of the Contempt of Court Act is necessary. During the framing of the Constitution, it was decided it be included as an express restriction upon the freedom of speech and expression, as part of Article 19(2) of the original Constitution. It was formally introduced as Contempt of Court Act in 1971. In 2006, Parliament amended the Act, limiting its application to situations where there was substantial interference with the course of justice.
As the recent Shillong Times incident indicates, little has changed. Meghalaya High Court has found editor and publisher of Shillong Times guilty of "contempt of court" for doing stories on perks and facilities to retired judges. In 2015, Kerala legislator MV Jayarajan was hauled up and sent to jail for contempt for terming judges "idiots" in a public speech in Kannur in 2010. He was subsequently sentenced to a six-month imprisonment by the Kerala High Court. He then appealed to the Supreme Court against the order. It didn't help as the Kerala High Court decision was upheld and he was put behind bars for four weeks.
Contempt of Court Act is a legacy of England early in its libertarian history. But then courts were a part of the state, unlike in India presently where executive, judiciary and legislature are separate institutions. The one in England was meant to protect powers-that-be from public criticism. But the truth remains inability to question judiciary is more out of fear than respect in the minds of the citizens. And that's not healthy. It provides foolproof armour to judiciary but doesn't translate into cessation of resentment on the part of questioning few.
For instance, quite a few in India question the logic of Supreme Court working for only 193 days in a year though it happens only in civil and not criminal cases (I for one support this long break summer and winter breaks because it's not easy to understand the load that a judge manages on his working day till 4.30 p.m in courtrooms and then dictating judgments in his chamber till late in night).
There is also a simmering distrust against the State for draconian flexing of its powers. For instance, why books are continued to be banned in India and often without offering reasons? For instance, to the best of my knowledge, "Reminiscences of the Nehru Age", a book by Pt. Jawaharlal Nehru's private secretary M.O. Mathai, continues to be banned after it was first published in the 1970s without any official explanation from the government. Shouldn't Supreme Court, in the interest of people, question the State on the logic of banning books like it has told government now on Rafale all in public interest?
I am not a legal hawk but I have little doubt winning the trust of people is a continuing process without a full stop. Actions of judiciary and state must resonate with logic and fairness, transparency and humility. Clamping down on books or evoking "contempt of court" negates this process.