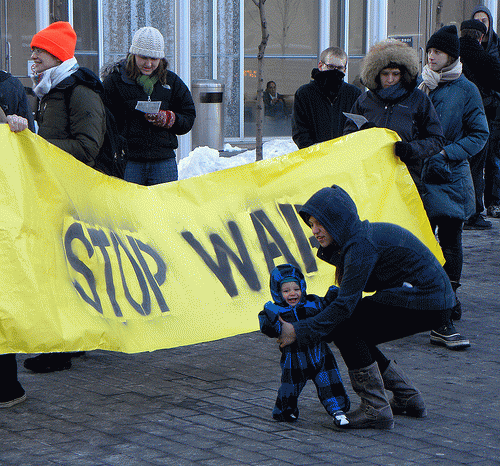 anti-war rally
(
Image
by
Fibonacci Blue
)
Details
DMCA
As 2017 fades from view, it is important to remember all the actions and words taken or spoken during the past year that brought this nation closer to yet another war and added fuel and intensity to the existing wars. There were so many moments when all of us who want genuine peace, justice and a sustainable planet nearly jumped out of our skins with shock and outrage at what was being proposed accompanied by an unparalleled sense of urgency about fighting back.
At times, we were amazed at the strength of the opposition. There are many inspirational images of the outpouring of people into airports around the country in opposition to the proposed travel ban or the millions speaking out for women's rights and equality or protection of the environment and the planet we all live on.
It was also a year when work to eliminate nuclear weapons from the face of the earth was recognized as an essential element of the road to peace. The International Campaign to Abolish Nuclear Weapons (ICAN) won the Nobel Peace Prize for its ability to facilitate the development of an International Treaty to Ban Nuclear Weapons. This historic treaty was originally supported by 170 nations. If only 51 nations sign and ratify this treaty, it will have the force of law, even though none of the nuclear powers participated in the negotiations or will likely sign the treaty. Thousands will never forget getting soaked in the steady, soaking rains for the entirety of the June 17th Women's March to Ban Nuclear Weapons in New York City, which took place just days before the negotiations began!!
But despite all these positive and effective efforts, the opposition to the wars that envelope the world isn't nearly as strong or as visible as it needs to be. It must grow louder and more visible in 2018! It must be pushed forward independent of the Democratic and Republican parties because, unfortunately, there is bi-partisan support for these wars.
We must end the U.S. support for Saudi Arabia in the war on Yemen -- saving millions from starvation, death and destruction. We must end the U.S. war on Syria and its push for regime change and allow the Syrian people to heal and to rebuild their country. We must prevent a U.S. war with North Korea, because it's a certainty that any war with North Korea will result in the use of nuclear weapons -- something that would be devastating to us all.
We need to push for an end to the U.S. policy of regime change, a policy that violates international law. And if we can get our government to call back those words that named Jerusalem the capital of Israel, we must do so. We can call for cutbacks on U.S. military aid to Israel and justice for the Palestinian people. While we're at it, let's stop the endless U.S. wars in Iraq and Afghanistan and the new and continuing efforts by the U.S. to destabilize Iran, instead of protecting the Iran nuclear deal. Today, the actions of these United States are perceived more as an impediment to world peace, instead of a contributor to it.
Meanwhile, here at home, we need to continue our work to move the money out of the $700 billion military budget to programs that our communities need. The cuts to children's health insurance programs, environmental protection, public education, public transportation, infrastructure and more, combined with the new "Tax Plan's" redistribution of wealth toward the wealthiest 1% and the major corporations, will leave many more in poverty.
We must also continue the consistent, hard work needed to recognize and dismantle the racism that already existed and that has been emboldened over the past year -- toward African-Americans, Muslims and immigrants, for starters. The recent death of Erica Garner, daughter of Eric Garner, who repeatedly told police "I can't breathe, I can't breathe," before he was choked to death, reminds us of the police brutality that must continue to be opposed and stopped, once and for all.
And, unfortunately, more than 50% of Puerto Rico is still without electricity. How can this be in a nation that has so much money tied up in funding the U.S. military? It is time that the U.S. shift its priorities away from wars overseas -- and instead focus its efforts on taking care of devastated communities here at home, spending some of those billions on confronting climate change so we can prevent the increase in devastating weather events.
We have our work cut out for us, but then again, we always have. So here's to having made it through 2017 -- and to working together to create a much better 2018!
"We must be the change we wish to see in the world." -- Gandhi
(Article changed on January 4, 2018 at 18:31)