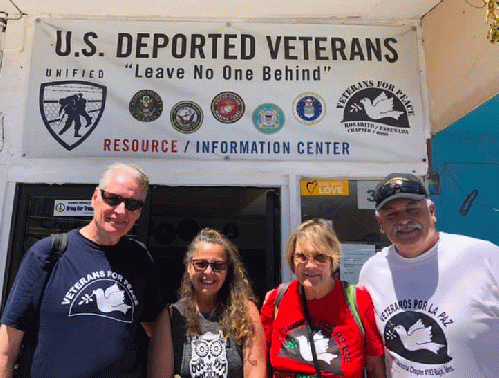 Gerry Condon, National President of Veterans for Peace, Colleen, Gulf War vet, Ann Wright, Hector Lopez, deported US veteran at office for Deported Veterans in Tijuana, Mexico.
(
Image
by Photo by Ann Wright)
Details
DMCA
Obtaining U.S. citizenship should be a requirement for serving in the U.S. military -- for the protection of the noncitizen recruit and for her/his protection from deportation as a U.S. veteran.
Deported U.S. veteran Hector Lopez, the office director of United Deported Veterans in Tijuana, Mexico, said that persons from other countries who are recruited to join the U.S. military are generally promised a path to citizenship as an enticement for recruitment. However, once the person is in the U.S. military, many unit commanders take no interest in helping the recruit in filing all the paperwork, and giving the person time to go to the various appointments needed to complete the citizenship package.
He added that some persons who have lived in the U.S. virtually all their lives and served in the U.S. military assumed they were citizens by virtue of their military service. He, himself, was brought by his parents to the U.S. from Mexico when he was three years old. He grew up in Fresno, CA, served in the U.S. military and was honorably discharged. Remarkably, it wasn't until he was convicted of a nonviolent crime as a civilian and deported to Mexico, a country that he had not lived in since he was three, that he realized he was not a U.S. citizen and that being a U.S. veteran did not protect him from deportation.
United U.S. Deported Veterans, whose office is located just off the plaza after one crosses the U.S.-Mexican border in Tijuana, Mexico, is tracking over 400 green-card, non-citizen U.S. veterans who have been deported for conviction of crimes in the U.S. Most of the crimes are nonviolent, drug-related charges. Lopez estimated that there are probably many thousands more non-citizen U.S. veterans who have been deported who have not asked for assistance from his office.
Veterans for Peace has established a chapter for deported veterans who not only assist other deported veterans but who also provide food and water for a church near the U.S. border that is housing persons from Central America and Haiti who are requesting asylum in the United States.
Fifty-nine deported U.S. veterans were interviewed for an excellent ACLU report, "Discharged Then Discarded," which details the life and military service of each veteran, what charges landed them in jail and what happened after their deportation. According to the ACLU report, 73 percent of 59 veterans interviewed indicated they had no immigration attorney representing them in their removal proceedings often because they could not afford to hire one. As a result, many were deported to countries where they were born but have no ties.
While U.S. citizen veterans convicted of crimes are released into U.S. society after serving their jail time, noncitizen "green card" veterans are deported to their home country, where many of them have not been in decades. Deportation results in the veterans losing access to VA medical assistance that they strongly need due to high levels of post-traumatic stress caused by combat in U.S. wars from Vietnam, Gulf War One, Afghanistan, Iraq, Somalia, Syria and now Mali.
Around 70,000 noncitizens enlisted into active duty U.S. military service between 1999 and 2008, representing about 4 percent of all new enlistments. As recently as 2012, there were 24,000 noncitizens in the military, with 5,000 Legal Permanent Residents-Green Card holders -- enlisting every year. The greatest noncitizen enlistments come from the Philippines (22.8%), Mexico 9.5%), Jamaica (4.7%), South Korea (3.1%), and the Dominican Republic (2.5%).
In 2012, 608,000 veterans, or 3 percent of the U.S. military veteran population in the United States, were foreign-born. As with current service members, Filipino (11.8 percent), Mexican (7 percent), and Jamaican (3.1 percent) immigrants have the highest percentages in the veteran population. All of these veterans should ensure they complete the paperwork for citizenship to protect themselves from deportation from the U.S.
The number of veterans receiving disability benefits has increased dramatically since 2001 due to injuries, both physical and mental, from the U.S. wars. In 2000, approximately 2.3 million veterans received Disability Compensation, but sixteen years later in 2016 after the wars on Afghanistan and Iraq, the number of veterans receiving disability benefits doubled to 4.6 million- many for emotional post-traumatic stress from what each did or saw in the wars.
Non-citizen U.S. veterans receive lifelong service connected treatment in Veterans Administration facilities located in the United States. However, if a veteran is deported, the only VA facility outside the United States and its territories (Guam, American Samoa, Puerto Rico and U.S. Virgin Islands) is in the Philippines. Most deported veterans known to the Deported Veterans organization are from Central America and do not have the resources to travel to the Philippines for medical assistance.
Until all persons who enlist in the U.S. military are required to become U.S. citizens for their own protection, current non-citizen active duty military and non-citizen "green card" U.S. Veterans should not be deported.