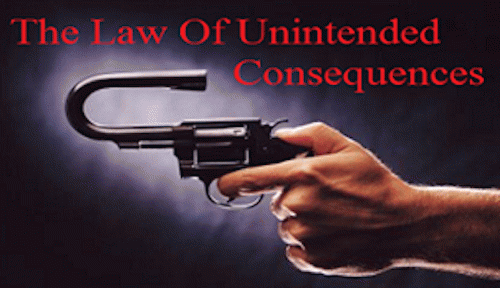 Shooting Yourself in the Head
(
Image
by
bizshifts-trends.com/2014/03/24/
)
Details
DMCA
Boosting Trump Dooms the Right, Advances Democrats
What if one-third of America's embittered, trust-their-gut, Obama-hating gang cram Trump, already a General Election underdog, down their party's throat? Barely into the primaries, fire-breathing Trumpery has not just dismantled the rightwing propaganda machine. He's discredited both lead "conservative" ideologues and their tiresome, failed ideology. Daily, Trump decimates the broken Bush coalition of billionaires, evangelicals and seething white workers. Horses have barely left the gate -- and Repug leadership are distressed, if not discombobulated, as frustrated as blue collar brigades encircling Trump towers.
That all sounds good to this progressive: let's toast the Donald as the greatest modern schismatic force, splitting open a staggeringly insular, contemptuous and Constitution-defying party. And this happy news precedes the inevitable tsunami of scandals coming Trump's way, with personal dirt just bubbling up. Agreed, Trump is less extreme, less ideological (on abortion, taxes, trade, Israel, Asian wars) than the fanatic Cruz, even Rubio (or Carson's stray crazies). One can embrace a disruptive Trump nomination without equally dreading Trump in the White House (what silver lining has no dark cloud).
With GOP dirt flying fast and furious. all the more reason for the exceptionally clean, scandal-free Sanders to emerge as the strongest Democrat. Hillary, with baggage the size of Maryland, is the perfect bulls eye for vicious, demagogic Trumpian antics. Look what Trump dumps on Rubio or Cruz, with decades of fewer ducks in a row. Against Sanders, Trump's sky-high disapproval numbers (pushing 60%) will be front and center (vs. Hillary around 50%). Will Trump suddenly win over the 65% of his own party who already reject him (often with fervor) and/or consider him a General Election loser?
Does Trump yet have a national constituency -- beyond his one-third of 40% on the right? Will evangelicals ignore multitudes of coming evidence linking Trump to sinful gambling and strip joints, the underworld, KKK support, inherited wealth, multiple divorces and bankruptcies, let alone thousands of ordinary folks abused by his insatiable greed? Are there enough under-and unemployed angry, white, bigoted yahoos -- and how many will certainly vote in all-important battleground states?
Trump's National Party?
Let's concede all the '12 "Romney states" to any Republican nominee, but how does the Donald take more than half of the close contests, like VA or WI, CO, NH, OH or PA and FL? What if nominee Trump, even more discredited by November, drives down all Republican voting, as the less objectionable Romney fell millions short of McCain's '08 totals? That's why elected Republicans fear Trump, not only a blown chance against vulnerable Democrats, but certain to damage the entire party structure.
(Note: You can view every article as one long page if you sign up as an Advocate Member, or higher).