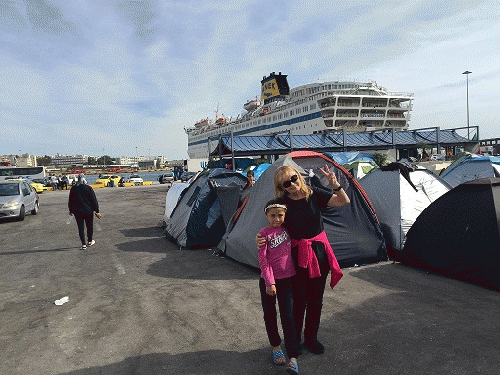 (
Image
by
Ann Wright
)
Details
DMCA
Our small three person delegation from CODEPINK: Women for Peace (Leslie Harris of Dallas, TX, Barbara Briggs-Letson of Sebastopol, CA and Ann Wright of Honolulu, HI) travelled to Greece to volunteer in refugee camps.
We spent our first day in Athens at the refugee camp on the piers of Piraeus harbor known as E1 and E1.5 for the piers on which they are located-away from the busiest piers from which the ferry boats take travelers out to the Greek islands. Camp E2 that held 500 people was closed over the weekend and the 500 person in that location moved to Camp E1.5.
The camp has been on the piers of Piraeus for several months when ferryboats began moving refugees from the islands off the coast of Turkey to Athens. Many of the boats arrived at the piers at night and the travelers had no place to go so they just camped out on the piers. Gradually, the Greek authorities designated piers E1 and E2 for refugee camps. But, with the tourist season arriving, the authorities want the space for the increased tourist business.
Rumors are that both of the remaining camps of about 2,500 will be closed over this weekend and everyone moved to a camp at Scaramonga being built about 15 minutes outside of Athens.
Some of the refugees left the Piraeus piers to check out other refugee facilities, but have returned to the piers as the concrete rather than dirt floors, fresh ocean breezes and easy access to the city of Athens by public transport are seen as better than being in a formal camp in an isolated location with more stringent entry and exit rules.
We were at Piraeus yesterday all day helping in the clothing warehouse and talking to refugees as they wait in lines -- for the toilets, showers, food, clothing -- lines for anything and everything -- and being invited to sit inside the family tents to chat. We met Syrians, Iraqis, Afghans, Iranians and Pakistanis.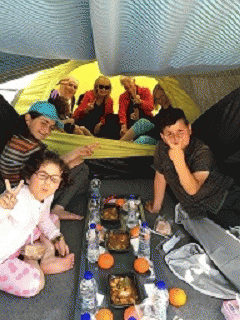 (
Image
by
Ann Wright
)
Details
DMCA
The pier camps are informal, not official refugee camps operated by any one group. But the Greek government is helping with some of the logistics such as toilets and food. There seems to be no camp administrator or central coordinator but everyone seems to know the daily drill of food, water, toilets. Refugee registration for their future is a process we have not figured out, but many we have spoken with have been in Athens for over two months and do not want to be moved to a formal facility where they will have less freedom and access to the local communities.
The toilets are a mess, long lines for showers with a 10-minute max for moms to shower the kids. Most live in small tents with large families connecting several tents to form a "sitting room" and bedrooms. Kids race around the area with small toys. The Norwegian NGO "A drop In the Ocean" has a space under a tent for providing a space for art, coloring and drawing for kids. A Spanish NGO has hot tea and water available 24 hours a day. The clothing warehouse is stacked with boxes of used clothes that must be sorted into logical piles for distribution. As there are no clothes washing machines, some women attempt to wash out clothes in buckets and hang clothes on lines, while others have found that throwing away dirty clothes and getting "new" ones from the warehouse is the most efficient way to stay clean. UNHCR provides blankets that are used as carpets in tents.
(Note: You can view every article as one long page if you sign up as an Advocate Member, or higher).