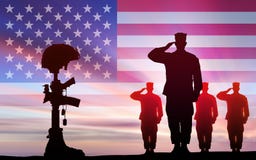 From dreamstime.com: Salute Stock Illustrations -- 13,155 Salute Stock Illustrations
(
Image
by
dreamstime.com
)
Details
DMCA
Each and every year at this time in November our nation remembers those who fought and died wearing a US military uniform. But only a few of what they named 'Wars' were ones in which our young military were rightfully sent overseas to fight.
This writer can only think of one such time and that was WW-2. All the rest of them were disgraceful attempts by our (so called) leaders to keep a stranglehold on the world.
Sadly, the dead wearing those proud US uniforms of various branches have always been transformed into heroes. Sadder still, they were not heroes, rather pawns used disgracefully in some Military Industrial Empire's chess game. Worse still, in most cases they were sent into harm's way by leaders, both political and military, who never had to smell the odor of instant death:
The procession of generals marches slowly
with the clouds of gunpowder behind them,
as another encounter eases to flame
and the shouts of battle burn invisibly
from what once were bunkers of manhood
reduced now to pools of slaughter-house blood
flooding charred carcasses, uniformed but in death.
And the plotters never once look back
for the optimism of victory will not allow it.
They simply smile and pat one another
and then interrupt for a quick reflection;
And their silence is for that glorious past
(Note: You can view every article as one long page if you sign up as an Advocate Member, or higher).