This piece was reprinted by OpEd News with permission or license. It may not be reproduced in any form without permission or license from the source.
Reprinted from Consortium News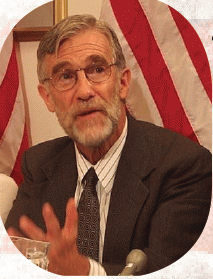 Former CIA analyst Ray McGovern
(
Image
by
Photo courtesy of raymcgovern.com
)
Details
DMCA
A Memo to: Dr. Ben Carson, Hillary Clinton, Ted Cruz, John Kasich, Marco Rubio, Bernie Sanders, Dr. Jill Stein, and Donald Trump
The media brouhaha over naming your campaign advisers on foreign policy prompts this reminder of a unique resource available, gratis, to all of you. That resource is our nonpartisan group -- Veteran Intelligence Professionals for Sanity (VIPS). If we were into self-promotion, we would add to our (virtual) letterhead: "serving satisfied customers since 2003."
We are about apolitical analysis; we are into spreading unvarnished truth around; we do not shape our analysis toward this or that debating point. Thus, we eschew the moniker "campaign adviser." But that doesn't mean we wouldn't provide apolitical and unvarnished advice to anyone who seeks it.
Unique? We are on the outer edge of atypical in the sense that we are a fiercely nonpartisan, tell-it-like-it-is group of professionals with long experience in intelligence and related fields and with no policy or personal axes to grind. We are Republicans, Democrats and Independents. Abundant proof that party preference plays no role in our analysis can be seen in our enviable record -- in the substantive work we have produced over the past 13 years -- both before and after the ill-advised attack on Iraq in March 2003.

Also distinguishing us from "campaign advisers," none of us in VIPS lust for a high position in a new administration; none are heavily invested in arms industries; none of us ask for a retainer. In other words, there are no strings attached to the substantive analysis we provide to all our readers and listeners. If objective, disinterested analysis is your cup of tea, we suggest that you check out VIPS's record, to include the multiple warnings we gave President George W. Bush in the months before the attack on Iraq.
In fact, VIPS was founded by a handful of former CIA analysts, including me, for the express purpose of warning President Bush that his small coterie of advisers, led by Vice President Dick Cheney, was adducing fraudulent -- not mistaken -- "intelligence" in promoting the concept the war on Iraq.
Indeed, in recent years VIPS has been accused of naivete in failing to understand that Bush, to whom we addressed most of our pre-war memos, was fully aware of how Cheney and his cunning co-conspirators and conmen were fabricating the false pretenses for war. We plead guilty to believing that U.S. presidents deserve unspun analysis and to trusting that honest assessments will help presidents act responsibly on behalf of the nation.
Call us old-fashioned, but we just found it hard to believe that any U.S. president would justify war on "evidence" made out of whole cloth. Equally difficult to believe was that our former colleagues would acquiesce in the deception.
So, despite the doubts that Bush really wanted the real story, we rose to the occasion, nonetheless, and issued three corporate VIPS memoranda before the attack on Iraq: (1) "Today's Speech By Secretary Powell At the UN," February 5, 2003; (2) "Cooking Intelligence for War in Iraq," March 12, 2003; and (3) "Forgery, Hyperbole, Half-Truth: A Problem," March 18, 2003.
Our commentary on Secretary of State Colin Powell's UN speech went out on the AFP wire and was widely read -- abroad. Foreign media followed up with us; U.S. media -- not so much. (This is the primary reason you may be learning all this for the first time).
During that critical pre-war period we took pains to use whatever entree we had to influential people. For example, I personally sought to reach then-Sen. Hillary Clinton via a key person on her staff, who assured me that the senator was being given our op-eds and our analyses to read.
In our memorandum of Feb. 5, 2003, we told President Bush we could give Powell "only a C-minus in providing context and perspective." As for input from Defense Secretary Donald Rumsfeld's Pentagon, we told the President: "Your Pentagon advisers draw a connection between war and terrorism, but for the wrong reasons. The connection takes on much more reality in a post-U.S. invasion scenario. [Emphasis in the original]
"Indeed, it is our view that an invasion of Iraq would ensure overflowing recruitment centers for terrorists into the indefinite future. Far from eliminating the threat it would enhance it exponentially."
Though it went unheeded 13 years ago, the final paragraph of VIPS's first Memorandum for the President seems quite relevant to the current discussion regarding "campaign advisers" on foreign policy. In our same-day memo to the President on Powell's UN speech we noted that he had described what he said as "irrefutable and undeniable." Our final paragraph started with an allusion to those words:
"No one has a corner on the truth; nor do we harbor illusions that our analysis is irrefutable or undeniable. But after watching Secretary Powell today, we are convinced that you would be well served if you widened the discussion beyond " those advisers clearly bent on a war for which we see no compelling reason and from which we believe the unintended consequences are likely to be catastrophic."
(Note: You can view every article as one long page if you sign up as an Advocate Member, or higher).