Reprinted from Antiwar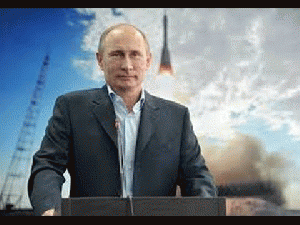 Remember that "imminent" Russian invasion of Ukraine that was supposed to take place over a year ago? Well, it's still "imminent"!
President Poroshenko has just announced that the Russians are about to undertake a "full-scale" invasion of his country and that therefore the military budget must be increased, while "traitors" who refuse to be drafted -- and who persist in criticizing his government -- must be dealt with harshly.
While demonstrators ring the Parliament almost daily in Kiev, Poroshenko beats the war drums to drown out their protests, citing the "colossal threat" posed by that ever-imminent Russian blitz. Of course it's just a coincidence that the upcoming G-7 summit -- from which the Russians are being pointedly excluded -- is sure to feature the familiar war propaganda aimed at the Kremlin.
While the Western media is giving us the usual pro-Kiev spin, echoing Poroshenko's accusations that renewed fighting was started by the rebels, the OSCE monitors tell a different story: apparently the fighting began with shelling of rebel-held villages by the Ukrainian army, with at least 19 killed. If you click on the OSCE link, note two interesting facts: 1) The monitors insist on putting scare quotes around all mentions of the rebel entities and official titles, and 2) The report also describes a number of protests in government-held territory, mostly directed against official corruption and soaring prices. The natives are getting restless.
In Ukraine, where tragedy and comedy are inextricably linked, there's never a dull moment: the latest tragicomedy is the news that Poroshenko has appointed former Georgian strongman Mikheil Saakashvili as the new governor of Odessa. Saakashvili and his gang were forced to flee Georgia when they were kicked out of office by outraged voters. Saakashvili fled the country when charges linked to his violent 2007 crackdown on street protesters were brought against him. He was also charged with embezzling government funds for his own personal use. The New York Times details the charges, including:
Click Here to Read Whole Article
(Note: You can view every article as one long page if you sign up as an Advocate Member, or higher).