Reprinted from Consortium News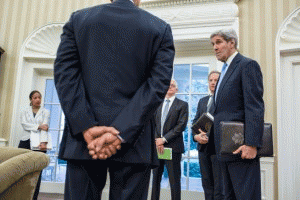 President Barack Obama talks with advisers, including National Security Advisor Susan E. Rice and Secretary of State John Kerry, Nov. 9, 2015.
(
Image
by
(Official White House Photo by Pete Souza)
)
Details
DMCA
>
Nothing disturbs me more about the modern mainstream U.S. news media than its failure to test what the U.S. government says against what can be determined through serious and impartial investigation to be true. And this is not just some question of my professional vanity; it can be a matter of life or death.
For instance, did Syrian President Bashar al-Assad cross President Barack Obama's supposed "red line" against using chemical weapons, specifically in the sarin gas attack outside Damascus on Aug. 21, 2013, or not?
Upon this question rests the possibility that a future President Hillary Clinton will invade Syria under the guise of establishing a "safe zone," a project that would surely expand into another bloody "regime change," as occurred in Iraq and Libya amid similar U.S. claims about protecting "human rights."
Yet, there is substantial evidence that Assad was not responsible for the sarin attack -- that is was perpetrated by jihadist rebels as a provocation to draw the U.S. military directly into the war on their side. But it remains conventional wisdom that Assad ignored Obama's "red line" and that Obama then flinched from enforcing it.
The New York Times and other major U.S. publications cite this "group think" about the "red line" as flat fact, much as many of them reported without doubt that Iraq's Saddam Hussein was hiding WMD, reinforcing the pretext for the U.S. invasion of that country in 2003.
On Wednesday, Times correspondent David E. Sanger wrote an article about the need for a coercive "Plan B" to force Assad from power and added that "president [Obama] has repeatedly defended his decision not to authorize a military strike against Mr. Assad after he crossed what Mr. Obama had described as a 'red line' against using chemical weapons."
Note that there is no attribution to that claim about Assad crossing the "red line," no "allegedly" or "widely believed" or any modifier. Assad is simply judged guilty by The New York Times, which -- in doing so -- asserts this dubious narrative as flat fact.
Yet, the Times hasn't conducted a serious investigation into whether Assad is, in fact, guilty. Their last stab at proving Assad's guilt in late 2013 collapsed when it turned out that the one missile found to have carried sarin had a range of only two kilometers, less than a quarter of the distance from which the Times had alleged that Assad's military had fired the rocket.
Faced with that evidence, the Times essentially retracted its findings in a little-noticed article buried deep inside the paper during the Christmas-New Year holidays. So, even as the case collapsed, the Times maintained its phony narrative, which it reprises regularly as happened in Sanger's article on Wednesday.
Misleading Readers
But what does that do to the Times' readers? They are essentially being propagandized by the "paper of record," with a questionable assertion slipped past them as an incontrovertible "fact." How are they supposed to evaluate whether the U.S. government should launch another war in the Middle East when they have been told that a dubious claim is now enshrined as a basic truth in the Times narrative?
Syrian President Bashar al-Assad
(
Image
by
(From Wikimedia) Fabio Rodrigues Pozzebom / ABr
, Author: Fabio Rodrigues Pozzebom / ABr)
Details
Source
DMCA
We saw something similar earlier this year when Jeff Goldberg of The Atlantic wrote a lengthy article on Obama's foreign policy focusing on his 2013 decision not to launch punitive airstrikes against the Syrian military for the sarin attack.
The opus contained the remarkable disclosure that Director of National Intelligence James Clapper had told Obama that U.S. intelligence lacked "slam dunk" evidence that Assad was guilty. In other words, Obama pulled back in part because he was informed that Assad might well be innocent.
Later in the same article, however, Goldberg reverted to Official Washington's "group think" that held as a matter of faith that Assad had crossed Obama's "red line." That false certainty has proved so powerful that it defies any contrary evidence and keeps popping up as it did in Sanger's article.
(Note: You can view every article as one long page if you sign up as an Advocate Member, or higher).