Reprinted from Sputnik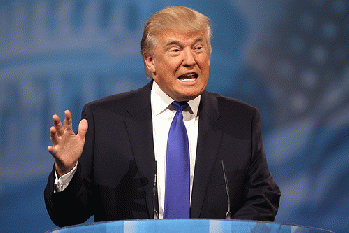 Donald Trump

(

Image

by

Gage Skidmore

)

Details DMCA

The US political elite and media are moving closer to dump Trump and thus write the November presidential election result. If such political orchestration were happening in Russia, the American media would be decrying "Kremlin tyranny".

But, hey, this is the Land of the Free. Free, that is, for the rich and powerful to make up the rules as they go along -- even when such rule-making and --breaking has become transparently brazen.

Over the past week, Donald Trump, the Republican billionaire property magnate-turned politician, has been accused of just about every flaw, from sexual assault to financial corruption, to being a foreign stooge for Russian leader Vladimir Putin.

That's rich given his Democrat rival, Hillary Clinton and her husband, Bill, are up to their eyes from substantive claims of even worse skullduggery, from laundering Saudi oil money into US foreign policy to waging covert wars for regime change, to serial sex parties on a fleshpot private island owned by one of Bill's rich buddies.

Added to this litany of vice is evidence of Hillary Clinton breaching state secrecy rules while she was Secretary of State (2009-2013) through private use of government emails. Not only is Clinton spared criminal investigation, the media generally avoid any focus on her and her husband's numerous proven depredations.

The double standard and double think are all part of the systemic bias in the US political process, whereby millions of ordinary citizen voters are being disenfranchised by the rich and powerful elite in order to determine who will be their puppet in the White House.

Of the recent deluge of deprecations hurled at Trump, it is perhaps the charge of being a military draft dodger that illustrates just how hypocritical and self-serving the US establishment and its servile corporate media are.

The US media are saying that Trump's five military service deferments during the Vietnam War in the late 1960s make him ineligible to be the nation's Commander-in-Chief.

So, when was that same standard ever applied for past presidents Bill Clinton and George W. Bush, both of whom were elected twice to the White House despite evidence that they shirked the military draft for their country?

The case against Bush as a draft dodger is especially strong, as documented by American author Russ Baker in his book, Family of Secrets. During the early 1970s, young George was posted to the Texas National Guard's flying squadron with the help from his daddy, George senior, pulling strings among the Republican Party leadership. At the time "Poppy" Bush was a senior Republican chairman, with close connections to the Central Intelligence Agency, the Pentagon and Big Oil.

Bush junior was then able to avoid military service in Vietnam because he was "on duty" at an airbase in Texas. But, as Baker and other researchers have found out, Bush's "duty" was clouded with drinking binges, drug abuse and a very patchy record of actual military attendance. Indeed, there is evidence that George W. Bush never even completed his basic minimum service for the National Guard and was eventually banned from flying because of "psychological issues."

But this apparent avoidance of patriotic obligation did not stop Bush three decades later becoming the 43rd president of the US in 2001 and again in 2005.

While 50,000 young American men -- mainly from poor social backgrounds -- were to die in Vietnam, with many more crippled physically and mentally, Bush and other privileged, well-connected peers were able to fiddle the system and spend their war years drinking highballs and snorting cocaine.

Bush's conduct record has never been pried open by the mainstream US media, even though plenty of skeletons lurk in his locker. One would think that suspicions of cowardice and fraud over Bush's dodgy military history would be especially worthy of investigation given his responsibility for instigating wars in Afghanistan and Iraq, which have claimed over a million lives, including thousands of his own countrymen.

(Note: You can view every article as one long page if you sign up as an Advocate Member, or higher).