From Wallwritings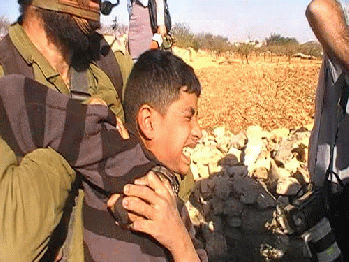 Child Strangled By Israeli Soldier
(
Image
by
PSP Photos
)
Details
DMCA
In this, the first week of the second month of my 90th year of life, I take computer in hand. I am committed to reflect, search for words, and begin a new blog post.
When I first began as a published writer, I took manual typewriter in hand to write a column for my junior high mimeograph newspaper.
That paper, The Signal, gave me the platform to share youthful thoughts with
classmates. I commented on events I read about in the two Atlanta, Georgia, newspapers, the Constitution and the Journal.
One that I vividly remember was my response to the attack on Pearl Harbor. I was 13.
Not much has changed since that dark attack day, other than the computer replacing the typewriter. Inhumane acts are still with us. Peace and justice are still shoved aside by deceit, fear and violence.
Fortunately, beacons of light do break through the darkness, beacons like Rabbi Laurie Zimmerman of Congregation Shaarei Shamayim in Madison, Wisconsin.
Her blog thoughts are entitled "American Jews must condemn Israeli detention of Palestinian children." They was published by The Times of Israel, a conservative Israeli media outlet.
Her words convey an impatience, and a call for action, in the tradition of the Hebrew prophets. She demands that the state of Israel stop its brutal treatment of Palestinian children, a brutality, were it taking place in the United States, would most certainly evoke outrage.
Rabbi Zimmerman has traveled through the West Bank where she talked with families. She writes about the impact of violence and military control on children. She began her blog posting by describing the dread and fear instilled in Palestinian parents by their Israeli military occupiers:
"A mother and father panic as soldiers burst into their home, pull their teenage son out of bed, handcuff and blindfold him, and drive away with him, leaving them with no information about where he is going, what he is accused of, or when they will see him again. The soldiers interrogate him for hours with no access to a lawyer or parent present.

"His requests for food and water, or use of a toilet, are denied. Terrified, he is subjected to physical and verbal abuse and he is detained for weeks or more in pretrial detention. He has no knowledge of his rights, and he signs a confession written in a language he does not understand. He will do anything to return to his family."
In her posting, Rabbi Zimmerman welcomes the news that for the first time in congressional history, a bill has been introduced in the U.S, House of Representatives which calls for action against civil rights abuses by the Israeli military.
The bill was introduced on Tuesday, November 14, by Minnesota's Democratic Congresswoman Rep. Betty McCollum. (below).
Minnesota's Democratic Congresswoman Rep. Betty McCollum.
(
Image
by
(From Wikimedia) US House Office of Photography
, Author: US House Office of Photography)
Details
Source
DMCA
(Note: You can view every article as one long page if you sign up as an Advocate Member, or higher).