Republished from Jeff J. Brown blog China Rising
(
Image
by
Jeff J. Brown
)
Details
DMCA
[Pictured above: a sign posted in a Macanese taxi driver's car. It says, "Solo Hongkongers supporting dogs are not allowed to ride", with the obvious suggestion that they are in fact dogs. "Solo" in this case means the rioters, who do not represent the moral majority, thus they are isolated. At the top of Chinese people's list? Social harmony and economic stability reign supreme. Eurangloland is overplaying its color revolution in Hong Kong, everybody there and on the Mainland understands it is being manipulated by Western enemies, and it is making China's communist-socialist way of life look like paradise.]
West's Hong Kong color revolution still making a mess of the place and totally backfiring:
[Watch, listen or read article]
Since my last article about the troubled events taking place in Hong Kong (HERE), which I highly recommend reading/watching to really understand the Chinese concept of ren, the more the West's color revolution keeps trying to terrorize the place and tear it up, the more it is driving the locals to Baba Beijing and China's communist-socialist way of life.
After HK Governor Carrie Lam and her government decided to pull the extradition bill that was the purported reason for the all the protests (HERE), the CIA again took all of these Confucian-Daoist-Buddhist concessions as a sign of weakness and is upping the violence and terror. Now, the protesters are demanding her resignation. Even if she did step down, the CIA would just keep amping the violence and chaos meter. Imperial, global capitalists have reptile brains and only know how to respond like Komodo lizards. In spite of this, she continued her campaign of Chinese ren, by showing contrition to government leaders, with it all being splashed in the local media (HERE). Definitely very un-Trump-man-like. The protests continue to turn more violent and are even taking place in shopping malls, for maximum terrorizing effect (HERE). Just like during the earlier failed 2014 color "Umbrella Revolution", the Western backed protest puppets put up "Lennon Walls", after John Lennon, with statements against the government and police plastered on them.
Even the colonial newspaper, South China Morning Post was obliged to splash headlines like this one (HERE),
Hong Kong border town of Sheung Shui rocked by protest violence and chaos before police finally clear streets at night - Police describe the mostly young protesters as 'highly organised' and well prepared to attack them with iron poles and other weapons
Notice iron poles and other weapons, above, as well as highly organized, which takes money and logistics. That's where the CIA orchestrates the chaos. Policemen are getting badly injured and one was attacked by a hoodlum, who cut off his finger. These kinds of acts of terror are of course meant to cause the police to take revenge, to up the cycle of violence, to create more chaos and fear in Hong Kong. That's what you learn in the West's Color Revolution class 101. This attack was caught on camera, with the terrorist flying down a mall escalator, running over people to escape, clearly holding a knife. It was so shocking and bloody that the article I had was pulled from Chinese media, but I found the footage on Reddit (HERE). That article also pointed out the similarities between Hong Kong's Western color revolution and the one that has destroyed Ukraine. Chinese citizens are much, much more plugged in than 95% of Euranglolanders.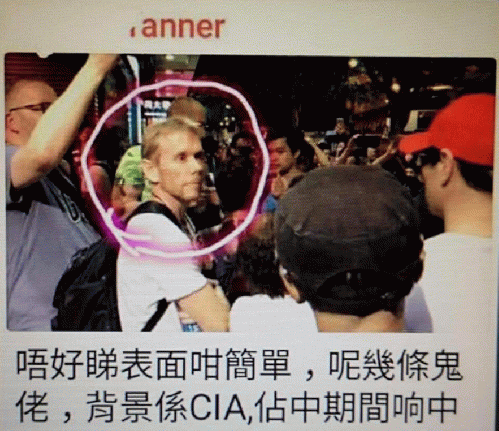 (
Image
by
Jeff J. Brown
)
Details
DMCA
(Note: You can view every article as one long page if you sign up as an Advocate Member, or higher).