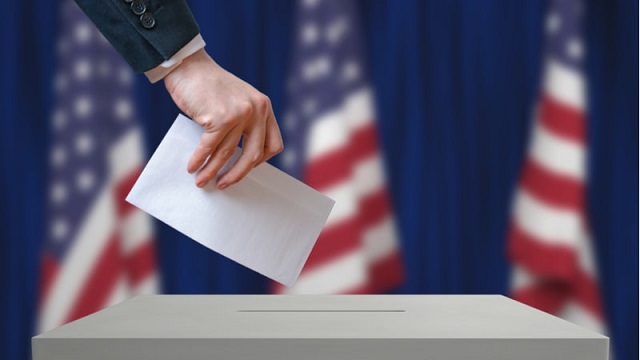 Election officials nationwide are assuring the voting public that whatever happened in 2016 it will not reoccur in 2020
(
Image
by meritalk.com)
Details
DMCA
After the surprise victory of Donald Trump in the 2016 presidential election, the corporate media reported that it came as the result of faulty polls and a lack of Hillary Clinton's campaigning in key battleground states, where she was believed to be ahead. The foreign meddling in the election was reported to be limited to the manipulation of social media and not much else.
Today, of course, we know the opposite was true. Convicted Trump former campaign manager Paul Manafort handed off to a Russian interlocutor internal Republican Party polling data in a New York cigar bar scene worthy of an episode of "Mission Impossible."
Foreign-based computer hackers were, at first, reported to have only attempted penetration of state and county election boards. Subsequently, it was reported that various state election officials were subjected to coordinated and sustained spear phishing emails attempting to gain access to election system passwords.
It is now known that they went far beyond simple penetration of election-related official web sites and hacked into proprietary systems that tallied votes. The Republican governor of Florida, Ron DeSantis, said he signed an unprecedented agreement with the FBI to not disclose the two counties in his state who saw their election systems hacked during the 2016 election. It is known that one of them was the Panhandle's Washington County, where Trump won 77 percent of the 11,000 votes cast. It is widely suspected that the other Florida county subjected to vote counting hacking in 2016 was the Democratic stronghold in south Florida, Broward County. Trump won Florida in a very close race, a victory that more than likely was engineered from abroad.
DeSantis edged out his Democratic opponent in the 2018 gubernatorial election in a close race. There have been no assurances that the system flaws that permitted foreign hackers access to vote tallying systems in Washington and Broward Counties were ever rectified prior to the 2018 election, which makes DeSantis's silence about the counties subjected to the 2016 hacking all the more suspicious.
Other Florida counties, whose election officials were targeted by email spear phishing in 2016 include Alachua, Broward, Citrus, Clay, Duval, Gulf, Lee, Leon, Pasco, Putnam, Taylor, Volusia, and Wakulla. There are also strong indications that Sumter County, in central Florida, was hacked in 2016.
In the 2016 election, foreign-based hackers were suspected of penetrating electronic poll books in North Carolina's populous Durham County to falsely show that voters who had not yet voted had already cast their votes. The electronic poll book systems manufacturer is VR Systems of Tallahassee, Florida. The investigation by Justice Department Special Counsel Robert Mueller strongly hinted that VR Systems was targeted by hackers based in St. Petersburg, Russia. VR Systems electronic poll book software, called EViD, is also used in California, Florida, Illinois, Indiana, New York, Virginia, and West Virginia.
Election officials nationwide are assuring the voting public that whatever happened in 2016, it will not reoccur in 2020. Nothing could be further from the truth. Not only are there no assurances about 2020, the results of the 2018 election and the U.S. Senate loss of incumbent Democratic Senator Bill Nelson in Florida raise suspicions that Republican victor Rick Scott and Donald Trump share in common at least one thing: they were both elected as a result of massive election fraud engineered from abroad.
In April of this year, the FBI revealed that electoral systems in all fifty states were targeted by hackers from abroad prior to the 2016 election. The hackers attempted to collect information from databases, as well as usernames and passwords.
We may have recently witnessed another use of election manipulation to alter the outcome of a national election. On May 18, every opinion poll in Australia indicated that the opposition Labor Party would handily defeat the incumbent Liberal-National right-wing coalition of Prime Minister Scott Morrison, a fundamentalist Christian and climate change denier, "Down Under's" very own Mike Pence. The opinion forecasters showed Labor ahead of the right-wing by a percentage of anywhere from 51 to 56 percent. The election showed an opinion poll flip to the conservatives, who won with 51 percent of the vote.
What could have caused the opinion polls to be so wildly off? Perhaps, it was the same thing that rendered the 2016 U.S. polls so useless: massive hacking of computer systems counting the votes.
In February of this year, it was reported that a sophisticated "state actor" had hacked into the computer networks of the Liberal-National coalition parties and the Labor Party. Morrison, a xenophobe like Trump, tried to lay blame on the Chinese government. Given Morrison's strongly pro-Israel policies, some Labor Party officials suspected Tel Aviv as being the true culprit. Labor leader Bill Shorten, who stepped down from his position after his party's surprise defeat, revealed that "progressive parties . . . are more likely to be targeted by ultra-rightwing organizations." The government of Israel, which includes far-right racist parties in its coalition, can certainly be classified as a threatening "ultra-right-wing organization."
The state of Queensland experienced hacking involving its political parties in January of this year. The two-seat pick up that ensured the conservatives their national victory came, perhaps not coincidentally, in Queensland.
French President Emmanuel Macron's En Marche! Political party experienced a massive hacking operation just prior to the 2017 election. The hacking originated from abroad. A voter registration website in the United Kingdom used for first-time or lapsed voters to register for the 2016 European Union Brexit referendum crashed two weeks prior to the vote. Some British officials linked the crash to foreign hacking operations.
There is concern within the U.S. Intelligence community that foreign-based cyber election meddlers used El Salvador's February 3, 2019, presidential election to refine their skills. That election resulted in a pro-U.S. candidate Nayib Bukele, handily beating the ruling left-wing party and right-wing party candidates. A similar operation is believed to have played out in the December 31, 2018, election in the Democratic Republic of Congo, where a pro-Israeli candidate came from third place in opinion polls to win the election. To send a message to France and Belgium not to interfere in the fraudulent Congolese election, Trump dispatched U.S. troops to neighboring Gabon. Israeli lobbyists in Washington immediately went to work on behalf of the Congolese victor, Felix Tshisekedi, who has promised Israeli firms almost unfettered access to the DRC's wealth of diamonds, gold, platinum, and rare earth minerals.
(Note: You can view every article as one long page if you sign up as an Advocate Member, or higher).