"I'd gladly pay you Tuesday for a hamburger today".
-- J. Wellington Wimpy
If you are old enough to remember the Popeye cartoons, you will remember Wimpy and his promise to pay at a later date for a hamburger today. As Congress listens to the latest pleas for $25 billion from GM (GM), Ford (F), and Chrysler, I can't help but think of Wimpy's promise. The entire $700 billion bailout (plus the $150 billion of pork used to buy votes) is based on the Wimpy motto. Give me what I want today and I'll pay you at some future uncertain date. This has become the motto of government, corporate America, and consumer America.
The most amusing part of CEOs begging Congressmen for $25 billion is the assumption that there is $25 billion to give. The United States has no money. We are broke. There is no money – nada, zero, zilch. We have already spent $10.6 trillion more than we have. That is a lot of hamburgers. Next Tuesday is almost here. We have committed $1 trillion more than we have for the next year. We have committed $53 trillion based on promises already in the pipeline. Uncle Sam, the personification of America, may need to step aside for the new personification of America, Wimpy.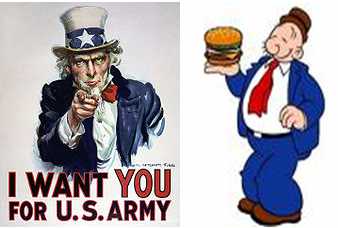 Citigroup has overshadowed the automaker's "miniscule" request of $25 billion with today's taxpayer bailout of over $300 billion. Over the weekend, when the Fed & Treasury do their best work, Vikram "Wimpy" Pandit asked Ben "Popeye" Bernanke for $300 billion, and promised that his worthless derivatives would be worth something next Tuesday. Somewhere, Charlie Prince is still dancing.
TARP – I Thought Turkeys Could Fly
"As God is my witness, I thought turkeys could fly!!!" -- Arthur Carlson, WKRP in Cincinnati
It's a helicopter, and it's coming this way. It's flying something behind it, I can't quite make it out, it's a large banner and it says, uh - Happy... Thaaaaanksss... giving! ... From ... W ... K ... R... P!! No parachutes yet. Can't be skydivers... I can't tell just yet what they are, but - Oh my God, Johnny, they're turkeys!! Johnny, can you get this? Oh, they're plunging to the earth right in front of our eyes! One just went through the windshield of a parked car! Oh, the humanity! The turkeys are hitting the ground like sacks of wet cement! Not since the Hindenburg tragedy has there been anything like this!– Les Nessman, WKRP in Cincinnati
Arthur Carlson was the clueless moron station manager of WKRP in Cincinnati, a sitcom from the late 1970's. His idea for a Thanksgiving promotion was based on his belief that turkeys could fly.
Hank Paulson is the Arthur Carlson of our generation. Instead of dropping turkeys from a helicopter, he has dropped $179 billion. It had the same impact. The billions have hit the ground like sacks of wet cement. The $179 billion has been distributed as detailed in the following chart. The first $125 billion was forced on the nine largest financial institutions by Paulson on October 28. Since that forced feeding, 21 other financial institutions have applied for and received an additional $34 billion from the $700 billion trough.
AIG is a bottomless pit that has sucked $40 billion more into its vortex. Every company in America is trying to figure out how to get a piece of the action. American Express (AXP) and GMAC (GMA) are converting to banks so they can get bailed out by taxpayers for loaning money to people who couldn't repay them. GMAC generated all of GM's false demand over the last 5 years by providing financing to anyone who could generate fog on a mirror and sign an X on a loan document.
Date

- Advertisement -

Name of Institution

Amount

10/28/2008

Bank of America Corporation (

BAC

)

$15,000,000,000

10/28/2008

Bank of New York Mellon Corporation (

BK

)

$3,000,000,000

10/28/2008

$45,000,000,000

10/28/2008

The Goldman Sachs Group, Inc. (

GS

)

$10,000,000,000

10/28/2008

JPMorgan Chase & Co. (

JPM

)

$25,000,000,000

10/28/2008

$10,000,000,000

10/28/2008

State Street Corporation (

SSP

)

$2,000,000,000

10/28/2008

Wells Fargo & Company (

WFC

)

$25,000,000,000

10/28/2008

Merrill Lynch & Co., Inc.(

MER

)

$10,000,000,000

11/14/2008

Bank of Commerce Holdings (

BOCH

)

$17,000,000

11/14/2008

1st FS Corporation

$16,369,000

11/14/2008

UCBH Holdings, Inc. (

UCBH

)

$298,737,000

11/14/2008

Northern Trust Corporation (

NRTS

)

$1,576,000,000

11/14/2008

SunTrust Banks, Inc. (

STI

)

$3,500,000,000

11/14/2008

Broadway Financial Corporation

$9,000,000

11/14/2008

Washington Federal Inc. (

WFSL

)

$200,000,000

11/14/2008

$3,133,640,000

11/14/2008

Provident Bancshares Corp. (

PBKS

)

$151,500,000

11/14/2008

Umpqua Holdings Corp. (

UMPQ

)

$214,181,000

11/14/2008

$2,250,000,000

11/14/2008

Regions Financial Corp. (

RF

)

$3,500,000,000

11/14/2008

Capital One Financial Corporation (

COF

)

$3,555,199,000

11/14/2008

First Horizon National Corporation (

FHN

)

$866,540,000

11/14/2008

Huntington Bancshares (

HBAN

)

$1,398,071,000

11/14/2008

$2,500,000,000

11/14/2008

Valley National Bancorp (

VLY

)

$300,000,000

11/14/2008

Zions Bancorporation (

ZION

)

$1,400,000,000

11/14/2008

Marshall & Ilsley Corporation (

MI

)

$1,715,000,000

11/14/2008

$6,599,000,000

11/14/2008

TCF Financial Corporation (

TCB

)

$361,172,000

Total Distributions

$178,561,409,000
By any reasonable assessment, the Troubled Asset Relief Program has been a miserable failure and a complete waste of taxpayer money. The basis used to ram the bill through Congress was the purchase of the toxic assets off of bank's books. Not one dollar has been used for this purpose. The main purpose for passing the $700 billion bailout was to restore confidence in the markets. Let's assess the success of this effort:
On October 3 when the TARP was signed into law, the S&P 500 was at 1,114. Today, it is 800. The 28% decline in the markets in five weeks doesn't show tremendous confidence in Paulson's acts.

Paulson's changing course every few days has shown the world that he is winging it. He has floundered from buying toxic assets to jamming capital down the throats of banks to his current plan to support consumer debt. Was Paulson lying to Congress about buying toxic assets all along? Don't worry, he believes he is smarter than everyone in America because he ran Goldman Sachs (GS) and created the toxic instruments that are bringing down the financial system. He has a Harvard MBA, you know.

Sugar Daddy Paulson has handed out $310 billion of the initial $350 billion tranche. He would have to go back to Congress for the 2nd $350 billion tranche. Congress was supposed to create a five-member congressional oversight panel, but hasn't. The White House was supposed to nominate, and the Senate was supposed to confirm, a special inspector general to audit and investigate where the funds are going. After six weeks, President Bush hasn't made a nomination. It is only $310 billion of taxpayer money, what's the hurry anyway. I'm sure these banks will use the money responsibly at exotic resorts, flying private jets, paying well deserved bonuses, and getting massages to relieve their stress.

Poorly run automakers (GM, Ford, Chrysler), poorly run cities (Atlanta, Philadelphia, Detroit, and Phoenix), and poorly run states (California) are begging for a piece of the taxpayer pie.

The banks who have received the $179 billion have not made any loans with the money. Some are using the money to buy other banks. Their goal is to become too big to fail. Others, like Citigroup, have used the money to buy back bad assets from SIVs they created to mislead investors. They were on the verge of bankruptcy and have sidled up for another $20 billion a week after their CEO proclaimed their strength.

Michael Lewis, author of the classic Liars Poker, in a letter to Hank Paulson last week captures the absurdity of the TARP.

As much as I admire all of your decisions I can't help but notice that the main qualification of the bankers to whom you have been giving money, so that they might make smart loans, is that they have gone almost bankrupt by making stupid loans.

As your mind is subtle, I can only assume that you secretly believe that the American economy right now needs not smart loans, but more stupid ones -- and thus that you have targeted the bankers who have proven they can make them.

I, unfortunately, have not flirted with bankruptcy, or made any stupid loans. But here's my point: I haven't been given the chance! Allow me to prove my financial ineptitude to you. I swear to you that when I return for my second round of assistance I will have proven myself fully qualified to receive it.

By giving money to bankers who have made many stupid loans you have made life harder for bankers who have never made stupid loans. By aiding the dumb banks you prevent the smart ones from replacing them. It may be that just now smart bankers are the last thing we need -- but one day they may come in handy, and so we should do what we can to keep them from getting discouraged.

Hank has indicated that he is done dropping turkeys from the helicopter. He is counting the days until January 20, so he can get out of town and relax with the $700 million fortune that has probably been invested in Treasury bills for the last 2 years. At least he'll enjoy a comfortable retirement – many Americans will not.

Federal Reserve Gone Wild – Helicopter Ben To The Rescue

As of May 15, 2008 the Federal Reserve Bank of the United States had $881 billion of assets, $840 billion of liabilities, leaving $41 billion of capital. Federal Reserve Chairman Ben Bernanke has fired up the printing presses and helicopters since then.




Ben has created the Term Auction Facility, Term Securities Lending Facility, Primary Dealer Credit Facility, Commercial Paper Funding Facility, and Money Market Investor Funding Facility, among others in the last eight months. He also started paying interest to banks on reserves. The goal of unfreezing the system has been a wretched failure. Banks are finding it easier and safer to borrow from the Federal Reserve, earn interest on their TARP capital, and not make any loans.

All of the facilities and programs are a crutch that encourages banks to do no business. Why would a rational banker make loans to businesses and consumers as we are entering the deepest recession since the 1930's? This is where our country and government have become warped and dysfunctional. The Government is now encouraging reckless lending as the solution to previous reckless lending.

In the space of two months, Ben Bernanke has doubled the balance sheet of the Federal Reserve. He is accepting bubble gum wrappers, old shoes, and Dick Cheney's defaced copy of the Constitution as collateral for loans from the Fed. When Paulson and Bernanke were selling their rescue plan in front of Congress in September, they stressed transparency, oversight and openness. The total lack of transparency and oversight were the reason that our financial system came to a grinding halt. Without transparency, no bank trusts any other bank. The black box aspects of derivatives have eliminated trust in the system.

So, what does Bernanke do but withhold the names of all financial institutions that have borrowed from the Fed and will not reveal the collateral that they have put up for those loans. The Fed has lent $2.2 trillion to banks in the last few months. The Fed has refused to reveal any information regarding these loans. Bloomberg News has sued the Fed under the Freedom of Information Act to force them to reveal where $2.2 trillion of taxpayer money has gone. The Bloomberg lawsuit argues that the collateral lists "are central to understanding and assessing the government's response to the most cataclysmic financial crisis in America since the Great Depression.'' Investment Manager Ted Forstmann was correct when he said, "It's your money; it's not the Fed's money. Of course there should be transparency."




Contrast openness and transparency with the words of Ben Bernanke and Barney (doesn't he look like Wimpy?) Frank.

Some have asked us to reveal the names of the banks that are borrowing, how much they are borrowing, what collateral they are posting. We think that's counterproductive. First, the success of this depends on banks being willing to come and borrow when they need short-term cash. There is a concern that if the name is put in the newspaper that such-and-such bank came to the Fed to borrow overnight for a perfectly good reason, that others might begin to worry is this bank creditworthy and that might create a stigma, a problem, and might cause banks to be unwilling to borrow, and that would be counterproductive.

- Ben Bernanke in front of House Financial Services Committee

My local paper lists the people who were arrested for DUI on a weekly basis. The idea is that if you know that your neighbors will see this, you will not drink and drive. Ben is encouraging banks to drink and drive.

"I talked to Geithner and he was pretty sure that they're OK... If the risk is that the Fed takes a little bit of a haircut, well that's regrettable.'' Such losses would be acceptable, if the program helps revive the economy. Frank said the Fed shouldn't reveal the assets it holds or how it values them because of "delicacy with respect to pricing.'' He said such disclosure would "give people clues to what your pricing is and what they might be able to sell us and what your estimates are.'' He wouldn't say why he thought that information would be problematic.

- Barney Frank, according to Bloomberg 11/21/08

How does complete secrecy restore confidence in the system? I sure feel secure with Barney Frank leading Congress on all financial issues. I wonder what a Washington insider like Frank's definition of "a little bit of a haircut" amounts to. A 5% haircut on $2 trillion would be a mere $100 billion. Chump change in Washington.

Negative Wealth Affect

As the bureaucrats, professional lifetime politicians, corporate lobbyists, and media spin artists figure out how to waste our tax dollars, real people in America are suffering dramatic declines in their net worth. The chart below shows consistent growth in American household net worth since 1945, with only a slight drop during the Dot Com Crash. The net worth of U.S. households peaked at $58.7 trillion in 2007. We are now in the midst of the greatest decline in the history of the United States.

The household balance sheet of American households tells an interesting story. Americans experienced a dual boom in stocks and real estate between 2002 and 2007. Real estate assets grew by 51% and financial assets by 55% over this time period. These increases gave rise to a positive wealth effect. When people perceive themselves to be richer due to the increase in the value of their homes and actual increases in investments, they are more likely to spend. This perception, along with a strong employment market, led Americans to make dreadful financial decisions. Even though real estate rose by 51%, mortgage debt rose by 75%.

What Americans are learning is that real estate can decline, but the debt stays forever. Much of that extra mortgage debt was used to buy TVs, cars, kitchens, bathrooms, and vacations. None of these luxuries have the potential to appreciate. Based on the decline in housing and the stock market, I have produced an estimate of the current national household net worth. By my conservative estimation, household net worth has declined by over $10 trillion since the beginning of the year and is now back to 2003 levels. By the time this recession is over, we will have eliminated all of the net worth created during the entire Bush reign. It was all an illusion, created by humungous amounts of debt, fraud, manipulation and deceit.

| | | | | | | | | |
| --- | --- | --- | --- | --- | --- | --- | --- | --- |
| | | | | | | | | Estimate |
| Figures in $ trillions | 2002 | 2003 | 2004 | 2005 | 2006 | 2007 | 6/30/2008 | 11/24/2008 |
| | | | | | | | | |
| Real Estate Assets | $14.9 | $16.3 | $18.2 | $20.4 | $21.8 | $22.3 | $21.8 | $20.0 |
| Financial Assets | $29.7 | $34.2 | $37.3 | $39.8 | $43.5 | $45.9 | $44.3 | $38.0 |
| Other Assets | $3.4 | $3.6 | $3.8 | $3.9 | $4.1 | $4.3 | $4.4 | $4.5 |
| Total Assets | $48.0 | $54.1 | $59.3 | $64.1 | $69.4 | $72.5 | $70.5 | $62.5 |
| | | | | | | | | |
| Mortgage Debt | $6.0 | $6.9 | $7.8 | $8.9 | $9.9 | $10.5 | $10.6 | $10.7 |
| Consumer Credit Debt | $2.0 | $2.1 | $2.2 | $2.3 | $2.4 | $2.6 | $2.6 | $2.7 |
| Other Liabilities | $0.8 | $0.9 | $1.0 | $1.0 | $1.2 | $0.7 | $1.3 | $1.3 |
| Total Liabilities | $8.8 | $9.9 | $11.0 | $12.2 | $13.5 | $13.8 | $14.5 | $14.7 |
| | | | | | | | | |
| Household Net Worth | $39.2 | $44.2 | $48.3 | $51.9 | $55.9 | $58.7 | $56.0 | $47.8 |

Source: Federal Reserve

American consumers are under intense stress. Now that there is no equity left to borrow against their houses, Americans are doing what they know best. They are whipping out one of their 30 credit cards. The credit card write-offs will be the next tsunami that hits our banking system and will be subsidized by more taxpayer funds. According to John Mauldin, credit card debt has exploded in the last few months:

Commercial Bank 'exposure' via the total amount of Credit Card 'loans' outstanding has risen MORE in the last ten WEEKS, than it did in the previous ten MONTHS COMBINED !!! "Moreover, the growth in the last ten-weeks, $32.3 billion, or about $600 million per 'shopping day' since the beginning of August ... represents nominal growth of + 9.3% ... or ... + 48.3% annualized over the last ten weeks." According to American Express, delinquencies on credit payments rose to 4.1% of all credit outstanding in the 3Q, up from 2.5% in 3Q of 2007, with Bank of America's rate rising even more steeply, to 5.9% in the quarter. Moreover, the 'pool' of loans deemed 'uncollectable' rose to a high 6.7% in the 3Q, soaring from 3.6% last September. What consumer spending there is has been fueled in part by credit card. Greg notes this uncomfortable piece of data: the second largest "merchant-vendor" for credit card use is now McDonalds. This suggests that many consumers are in serious distress when they need to get their $4 Big Mac and fries with a credit card.

The unemployment rate is currently 6.5%, according to U-3 government figures. The broadest U-6 measure, which includes discouraged and marginally attached workers, is 11.8%. If you are still discouraged and jobless after one year, the government ignores you in its calculation. How convenient for the government bureaucrats. If these workers are included, the unemployment rate is currently 16%. When someone tells you our current situation isn't close to the Great Depression because unemployment was 25% in the 1930's, keep this chart in mind. We have lost 1.2 million jobs in ten months. The U-3 rate will reach 9% by late 2009. That would be another 3.6 million job losses. These are the kind of numbers that could lead to social unrest. Our social services system and food banks will be pushed to the breaking point.

The S&P 500 has declined by 44% in 2008. It has provided an average annual return of -2% over the last 10 years. It has provided an average annual return of 5.8% over the last 15 years. These aren't the returns that the Wall Street PR machine has been promising you. They have convinced people that stocks always go up over the long run. I guess it depends on your definition of long run. Pension funds, endowment funds, and financial advisors use annual returns of 8% to 10% in their models and assumptions. This shortfall in return will have devastating impacts on States, Counties, and Companies with traditional pension plans, along with the average 401k investor.

So far, 2008 is shaping up to be the worst year for the stock market in history. The guys you see paraded daily on CNBC are shell shocked. Most of these people are worth millions. When someone had $10 million and now has $5 million, it's a shame. When a 64 year old guy who has worked hard his whole life, followed the rules, contributed to his 401k every week, listened to the stocks for the long run mantra, and accumulated $500,000 in his 401k, loses $250,000 months before his planned retirement, it is a tragedy.

People who thought they could retire will now have to work for many more years. Millions are losing their jobs, while their home value declines and their mutual fund holdings are cut in half. This is the negative wealth effect in full bloom. People are scared to death and will not spend anywhere near the level they have spent over the last 20 years. Forced frugality is here. Embrace it. Young people should be happy with the dramatic pullback in the stock market and housing market. Many valuation and sentiment measures now point to solid long-term returns from this point onwards.

Source: Barry Ritholtz

Creeping Corporate Fascism

For the last 2 weeks I've heard the normal fear mongering rhetoric about imminent disaster if the incompetent leaders of U.S. automakers didn't get a bailout from taxpayers for their strategic blunders. I have heard that if the 3 U.S. automakers were to fail, 1 in 10 workers in America would lose their jobs. According to the Bureau of Labor Statistics, there were 145 million employed workers in October 2008. According to their own information, the U.S. carmakers employ the following number of workers worldwide:

General Motors 266,000

Ford Motor 87,700

Chrysler 132,130

Total Workers 485,830

Approximately 377,000 of these jobs are in the U.S. This is 1 in 385 jobs in the country. The Center for Automotive Research, based in Ann Arbor, and surprisingly funded by the Big 3, coincidentally issued a report, just before the Big 3 CEOs went before Congress, that 2.95 million direct and indirect jobs would be lost if the Big 3 ceased operation. Even this exceedingly broad interpretation of lost jobs comes to only 1 in 49 jobs. The 1 in 10 jobs that Democratic Congressmen have been spouting is a bold faced lie. The bigger the lie, the more likely people will believe it. You can be sure that some PR maggot came up with this slogan and instructed all Democratic Senators to repeat it at every opportunity.

While their PR machines were busy generating lies, the CEOs of GM, Ford and Chrysler were flying to Washington DC on private corporate jets to beg for $25 billion from U.S. taxpayers. The General Motors corporate jet costs $36 million. Rick Wagoner's roundtrip cost $20,000. A coach roundtrip fare would have cost $600. This hubris by corporate executives who have made the strategic decisions that have ruined their industry is not surprising. Most CEOs in the U.S. believe they are smarter and deserve to be treated as royalty.

Robert Nardelli, the man who ruined Home Depot (HD) while collecting $123 million in compensation and a $210 million severance package, is the epitome of a pompous elitist CEO. He flies on a corporate jet after firing 28,000 Chrysler employees in the last two years. Rick Wagoner has raked in $25 million in the last 5 years, while leading his company to a $72.6 billion loss since 2005. Alan Mulally, who became CEO of Ford in late 2006, received $28 million of compensation for 4 months of work in 2006. He has been well worth the pay. Ford has lost $24 billion since 2006.

| | | | | | | |
| --- | --- | --- | --- | --- | --- | --- |
| General Motors | | | | | | |
| Financial Statements | | | | | | |
| | 3rd Qtr | 2nd Qtr | 1st Qtr | | | |
| in billions | 2008 | 2008 | 2008 | 2007 | 2006 | 2005 |
| Cash & Cash Equivelants | | | | | | |
| Other Assets | | $ 115.3 | $ 122.3 | $ 121.9 | $ 161.9 | $ 425.7 |
| Total Assets | $ 110.4 | $ 136.0 | $ 145.7 | $ 148.9 | $ 186.2 | $ 476.1 |
| Short Term Debt | | | | | | |
| Long Term Debt | | | | | | $ 285.7 |
| Other Liabilities | $ 112.9 | $ 149.8 | $ 142.7 | $ 141.4 | $ 143.4 | $ 175.8 |
| Stockholders Equity | $ (59.9) | $ (57.0) | $ (41.0) | $ (37.1) | | |
| Total Liabilities & Equity | | $ 136.0 | $ 145.7 | $ 148.9 | $ 186.2 | $ 476.1 |
| Net Income | | $ (15.5) | | $ (38.7) | | $ (10.6) |
| Operating Cash Flow | | | | | $ (11.8) | $ (16.9) |
| "Wimpy" Wagoner Compensation ($mil) | | | $ 2.0 | $ 14.4 | $ 4.8 | $ 8.5 |

Source: Yahoo Finance

General Motors will burn through its remaining cash in less than two months. Ford has a little longer. The Democratic fear monger politicians that have been bought off by the UAW, warn of the imminent collapse of society if these automakers declare bankruptcy. Again, the big lie is more likely to be believed by the masses. The GM Board of Directors does not believe that a Chapter 11 filing is a viable option. This is the same Board that thought the Hummer was viable line of vehicles. Chapter 11 Bankruptcy will allow these companies to close unprofitable plants, close dealerships, rid itself of awful management, and renegotiate UAW contracts. They will come out of bankruptcy with leaner cost structure that will allow them to compete with Honda (HMC), Nissan (NSANY), and Toyota (TM). If Congress bails them out with taxpayer funds, they will continue to pay workers $70 per hour versus the $42 per hour paid by the Japanese automakers.




We are heading down a path towards corporatism, where government merges with corporate interests. It has already taken root with the Defense industry and Healthcare industry. This corporate fascism is clearly taking hold, as no one knows where the Treasury and Federal Reserve will set the line that Government will not cross.

It is also taking place at the State government level. In Pennsylvania, a horrifically run retailer, Boscov's, which uses 1960's retail ideas and foolishly used leverage to buy a bunch of bad Strawbridge locations, should be liquidating and joining Montgomery Ward on the scrap heap of retail history. Instead, Governor Ed Rendell is using taxpayer money to prop up this horrible retailer. I'm sure the $130,000 that Al Boscov contributed to Mr. Rendell's political campaigns had nothing to do with Rendell's actions. It must be a coincidence.

No Easy Way Out

Gonna stand my ground, won't be turned around
And I'll keep this world from draggin me down
Gonna stand my ground and I won't back down

Hey baby, there ain't no easy way out
Hey I will stand my ground
And I won't back down.

– Tom Petty – I Won't Back Down

The incoming Obama administration is now floating the idea of a $500 billion to $700 billion stimulus package. The story, which will be sold to the American public by his well oiled PR machine, is that we must do this to save the country. Have we heard this story before? The country is going through a necessary de-leveraging that will take years to complete. There is no stimulus package that will stop this de-leveraging process. There is no easy way out.

Obama will convince the American public that once we save the country with the stimulus program, he'll then address our long-term fiscal problems. He'll convince the Republicans to support the stimulus package by delaying the tax increases on the rich. Democrats have never seen a spending plan they wouldn't support. Republicans have never seen a tax that they didn't want to cut. This is the kind of "cooperation" that will quickly lead to a $13 trillion national debt.

Tax cuts for the middle class sounds great, except that a tax cut today is just a tax increase on our grandchildren. We will borrow this money, to cut taxes. Former Comptroller of the U.S. David Walker describes this use of debt in our country:

Individuals go into debt, and when they pass away, the debts go with them. But government debts stay, and they have to be assumed by our children and grandchildren. That's not only fiscally irresponsible; it's morally reprehensible.

It is time to take a stand. Government is the problem, not the solution. If the American public believes that another stimulus package will solve our problems, then they are more gullible than I give them credit for. There will be no easy answer to a problem that built up over a 25 year period. Americans will need to spend less, save more, and finally live within their means. The next 25 years will not be as fun and carefree as the past 25 years. Government must address the $53 trillion of unfunded liabilities, develop a cohesive realistic energy policy, enact a simpler tax policy, create a plan to repair our crumbling infrastructure, and encourage ideas that work for improving our educational system.

One ought never to turn one's back on a threatened danger and try to run away from it. If you do that, you will double the danger. But if you meet it promptly and without flinching, you will reduce the danger by half. Never run away from anything. Never!

--Winston Churchill

We have many problems and dangers before us. We need to meet them promptly, without flinching, or our great American Republic will surely enter a period of long slow decline. The choice is ours. Next Tuesday has arrived.