First, Excerpted from al Jazeera: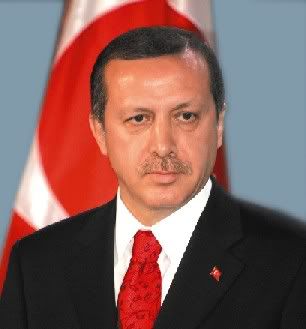 (Tayyip Erdogan)



Tayyip Erdogan has said Turkey was working on a "roadmap" to end the war in Libya which would include a ceasefire and the withdrawal of Muammar Gaddafi's forces from some cities.

Turkey has held talks this week with envoys from Gaddafi's government and representatives of the opposition.

"We are working on the details of this road map," Prime Minister Erdogan told a news conference on Thursday.

He said a "real ceasefire should be settled immediately" and Gaddafi's forces should withdraw from besieged cities.

"A comprehensible democratic transformation process that takes into account the legitimate interests of Libyan people should start immediately," said Erdogan, calling for political reforms.

"The aim of this process should be to settle constitutional order that people freely elect their rulers."

It was not immediately clear if the two Libyan sides were discussing the terms of such a roadmap.

Click here to follow our Libya live blog

Al Jazeera's Anita McNaught reporting from Tripoli said Turkey is the latest in a line of countries that have come up with proposals to resolve the Libyan conflict.

Turkey feels it has a better chance because it has been in direct talks with both Gaddafi's side as well as the Transitional National Council in Benghazi.

It has been sending aid shipments into Benghazi, a hospital ship to Misurata and has evacuated more than 475 injured Libyans for treatment in Turkish hospitals.

It also has a fleet of naval vessels with air support in the Mediterranean in enforcing part of the arms embargo. (FOR FULL ARTICLE CLICK HERE)


*********

Meanwhile, General Carter Ham, head of the US military mission supporting UN Resolution 1973 on Libya, is now raising the possibility of troops on the ground when questioned by Congress today, 7 April, as reported by MSNBC:


(MSNBC Source)

AJDABIYAH, Libya -- The U.S. may consider sending troops into Libya with a possible international ground force that could aid the rebels, the former U.S. commander of the military mission said Thursday, describing the ongoing operation as a stalemate that is more likely to go on now that America has handed control to NATO.

But Army Gen. Carter Ham also told lawmakers that American participation in a ground force would not be ideal, since it could erode the international coalition attacking Moammar Gadhafi's forces and make it more difficult to get Arab support for operations in Libya.

He said NATO has done an effective job in an increasingly complex combat situation. But he noted that, in a new tactic, Gadhafi's forces are making airstrikes more difficult by staging their fighters and vehicles near civilian areas such as schools and mosques.

The use of an international ground force is a possible plan to bolster the Libyan rebels, Ham said at a Senate Armed Services Committee hearing.

Asked whether the U.S. would provide troops, Ham said, "I suspect there might be some consideration of that. My personal view at this point would be that that's probably not the ideal circumstance, again for the regional reaction that having American boots on the ground would entail."

President Barack Obama has said repeatedly there will be no U.S. troops on the ground in Libya, although there are reports of small CIA teams in the country.

Pressed by Sen. John McCain, R-Ariz., about the situation in Libya, Ham agreed that a stalemate "is now more likely" since NATO took command. (FOR FULL ARTICLE CLICK HERE)