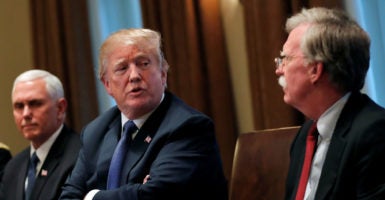 Podcast: Trump Weighs Military Response in Syria
(
Image
by
dailysignal.com
)
Details
DMCA
A few days after Brazil's new neo-Nazi president, Jair Bolsonaro, declared victory in that nation's presidential election, Donald Trump's "wargasmic" neocon national security adviser, John Bolton, was in Miami unveiling the administration's version of George W. Bush's "Axis of Evil."
After Trump congratulated the Adolf Hitler-praising Bolsonaro on his victory, Bolton, speaking before a crowd of right-wing Cuban-Americans, warned Venezuela, Cuba, and Nicaragua--nations Bolton called the "Troika of Tyranny"--that the United States and its new far-right allies, including Brazil and Colombia, would work together to overthrow the socialist governments of Venezuela, Cuba, and Nicaragua. Bolton also referred to the three nations as the "Triangle of Terror."
As Bolton was threatening increased sanctions on Cuba, the United Nations General Assembly voted 189-2 on a resolution calling on the United States to end its longstanding embargo against Cuba. Only the United States and Israel voted against the resolution, while Ukraine and Moldova were absent for the vote. In the past, the annual vote has seen a few abstentions from almost totally U.S.-dependent countries like the Marshall Islands and Palau. This year, they all voted against the United States.
Thumbing his nose at the UN vote, Bolton boasted, "the Nicaraguan regime, like Venezuela and Cuba, will feel the full weight of America's robust sanctions regime." While criticizing Latin America's progressive nations for so-called "human rights abuses," Bolton had only praise for Bolsonaro, who has vowed to exile or execute members of Brazil's political opposition, shut down the opposition press, steal tribal lands from Brazil's indigenous peoples, and legalize discrimination of Brazil's large Afro-Brazilian and Arab-Brazilian communities, as well as target, through violence, Brazil's gay and transgender population.
There is an effort by individuals like Bolton, Vice President Mike Pence and Trump, to convince the public that Central and South America pose a threat to U.S. national security. This has played out with the Trump administration's racist demonization of a small caravan of migrants trying to obtain asylum in the United States after fleeing rampant gang warfare and death squads in their native El Salvador, Honduras, and Guatemala. Pence accused cash-starved Venezuela of financing unnamed "leftist groups" with organizing the Central American caravan.
As Bolton was rattling the sabers in Miami, Trump signed an executive order sanctioning Venezuela's gold mining sector. The order restricts U.S. persons from engaging in commerce with entities importing and refining Venezuelan gold. Turkey, India, China, Singapore, and Iran, which import Venezuelan gold for refining, will be especially hard hit by the sanctions. Turkey accounted for $779 million in Venezuelan gold exports this year alone.
Pence's source for his outlandish charge was Honduran President Juan Orlando Herna'ndez, someone who was installed as president in the fraudulent November 26, 2017, election, despite the opposition of the Organization of American States. The Trump administration was among the first to recognize the legitimacy of the election. When, on election night, the returns showed Herna'ndez's challenger, Salvador Nasralla, ahead by five percent of the vote, the government ordered the counting stopped. Thirty-six hours later, the vote total showed Herna'ndez narrowly ahead and he declared himself the winner.
After Nasralla traveled to Washington to present evidence of fraud in the election, the State Department rejected it as inconclusive.
The Honduran model of fraudulent elections, something that has been repeated in Central Intelligence Agency-influenced elections and referenda in Argentina, Chile, Colombia, Bolivia, Peru, Paraguay, Guatemala, and elsewhere in the hemisphere, is what Bolton sees as the "democratic" alternative to his "Troika of Tyranny" in Venezuela, Cuba, and Nicaragua.
Bolton's idea of democracy is a Neo-Nazi government like that of Bolsonaro, which is supported on the streets by Nazi thugs, who prey on people of color, the political opposition, and gay and transgender people.