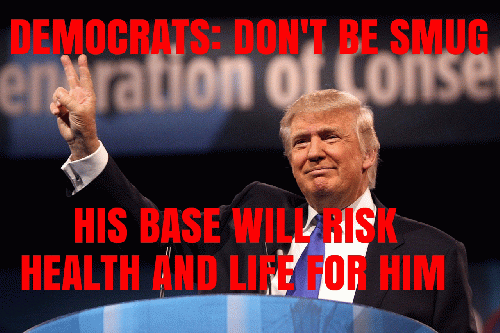 Donald Trump Image by Gage Skdmore;Text addition by Bernard Starr
(
Image
by
(Not Known) Wikimedia Commons.org
)
Details
DMCA
At a fundraiser for Joe Biden on June 23rd, Barack Obama advised Democrats not to be smug about winning the election, even though there is an awakening of young Americans energized and dedicated to reforms. He also warned that Donald Trump's growing failures and misdeeds do not ensure victory for Biden.
Obama is right. You have to win an election, not count on your opponent losing it.
No better example of smugness was the Democratic response to the turnout at Trump's Tulsa Oklahoma rally on June 20th--his first on-site rally since the COVID-19 pandemic struck the U.S. Typical of his boasting, Trump predicted a huge turnout and a massive overflow audience of followers outside the stadium. To his embarrassment, far fewer showed up; as many as two-thirds of the seats were empty and there was no overflow.
In their assessment that Trump is slipping and his support waning, Democratic leaders and the liberal media were rife with ridicule of the event. They called it a colossal failure. Pundits riffed on this failure mantra non-stop for days.
What a waste! What Democrats should be doing is fighting Republican dirty tricks aimed at suppressing voting and developing safeguards against election hacking by foreign governments. They should be strengthening the Democratic campaign efforts and sharpening their message. Crowing about Trump's low crowd count will not lead to victory in 2020.
Indeed, celebrating the Tulsa "failure" was especially foolish because the turnout signified nothing new in terms of Trump's ever-loyal base. The dismal turnout for his inauguration--which Trump tried to deny--didn't diminish support from his ardent followers or his lapdog enablers in Congress. For his congressional supporters, there is no bar low enough for them to defect.
If anything, the Tulsa rally was a success, not a failure.
Thousands turned out for the event, despite serious medical warnings, as well as the clear evidence of the danger of spreading the virus to young as well as old attendees. In spite of these warnings and the reports of a spike in infections in Oklahoma, 6200 people were at the Bok Center Arena displaying fierce dedication to Trump. No, not the 19,000 that the stadium holds or the large overflow outside that Trump expected, but the low attendance does not represent mass defections from Trump. Nor does it indicate that the ones who didn't show up have switched teams and will vote for Joe Biden. It merely says they were not as foolish--some would say not as dumb--as the ones who came to the rally.
What was the celebration in the Democratic camp all about? Nothing has changed.
An analogy will illustrate this point. What if Joe Biden planned a rally in Madison Square Garden in New York City. How many Biden loyalists would file into the 19,000 seats of MSG?
I live in New York City, and I've observed the look of terror on passersby faces when someone with or without a mask comes close to them. I'm sure the attendance at a Biden rally here would be lower than the number that showed up in Tulsa.
Surely, those people I observed on the streets would stay away. And others, whom Governor Andrew Cuomo has called "New York smart," wouldn't be there either. I certainly wouldn't. But I'm still supporting Biden. I'm not switching teams. And the same is likely for others who would stay at home and watch the rally on TV.
But a full house of young Trump supporters at Trump's rally at a megachurch in Phoenix Arizona, just a few days after the "failed" Tulsa rally, should serve as a reminder that the race is far from assured for Biden no matter what bizarre actions or frightening incompetence the President or his supporters display.
Thousands of Trump devotees crowded into the Dream City Church in Phoenix with no social distancing, virtually all without masks, in a state where the COVID-19 infection rate is surging.
(Note: You can view every article as one long page if you sign up as an Advocate Member, or higher).