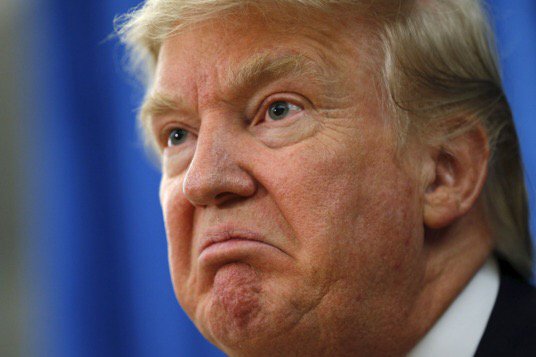 Donald Trump -- bully

(

Image

by

Twitter User mena_ariz

)

Details DMCA

Part I -- "A Rash of Anti-Semitism" My local newspaper is the Philadelphia Inquirer, and when I looked at the front page (the part "above the fold") for 28 February 2017, it read: "A Rash of Anti-Semitism -- 'Something Bad is Happening in Our Country.'" The attending article went on to report on several instances of Jewish cemetery desecrations and 21 bomb threats made on Monday 27 February to synagogues and Jewish community centers. Nationwide, there have been 90 such threats in 30 states and Canada in 2017. The quote that "something bad is happening" came from one of the neighbors who had come to offer help at a local desecrated cemetery. He is quite right. Yet the Inquirer article and others were only descriptive while quoting the predictable reactions of various politicians and community leaders. The coverage did not go into why we are getting this spate of incidents now, nor did it contextualize the incidents more broadly by noting that they were taking place within a country that, on average, suffers 44 homicides per day. The FBI and local police departments are all out there investigating these anti-Semitic incidents. I would be very surprised if, as a result of their search for the culprits, they found them among the American Muslim community which has strongly condemned these incidents, or Palestinians and their supporters here in the U.S., who typically use non-violent tactics to express their resistance to Israeli/Zionist racism, or the broader immigrant community, which is typically law-abiding and, in any case, is now being harassed by those charged with "making America great again." No, if you knee-jerk in those directions, you are probably mistaken. Part II -- The Likely Offenders So where should we look for the likely offenders of this latest outbreak of anti-Semitism? Well, there are a couple of possibilities. One is the disturbed individual who, for whatever motive, vents his anger in this fashion. This probably accounts for the St. Louis man recently arrested for making a relatively small number of these threats against Jewish sites. The other possibility is that these actions are expressions of the newly ascendant sense of power of white supremacists. Many of these threatening calls turn out to be "unprecedented" in that they used "sophisticated voice masking technology." They also warned of bombs made with specific types of explosives. Now, white supremacist organizations with military and security professionals among their members would, plausibly, have the technology and weapons experience used in these incidents. Of course, that does not prove they are responsible, but it does put them on what must be a rather short list of possibles. In this regard, President Trump's response to this affair is a curious one. In a recent press conference he vehemently declared that "I am the least anti-Semitic person that you've ever seen in your entire life. [And also] the least racist person." Then, later, he suggested that recent anti-Semitic acts were "false flag" operations coming from his "political opponents." In other words, Trump, and his close advisers too, are suggesting that the culprits are "Democrats" who are trying to make the president and his supporters "look bad." Part III -- Donald Trump Liberates the Bad Guys I don't think that Donald Trump is playing games here. I think that he believes everything he says -- convincing himself that his "false flag" theory is the truth even as he says it. It is part of a delusional pathology. This means that he is incapable of understanding that, in the final analysis, he may well have triggered the present anti-Semitic acts. It is his threatening and demeaning rhetoric during the campaign and subsequently that has given license to potentially violent elements within American society.

(Note: You can view every article as one long page if you sign up as an Advocate Member, or higher).