(Article changed on March 10, 2013 at 13:52)
By Ron Ridenour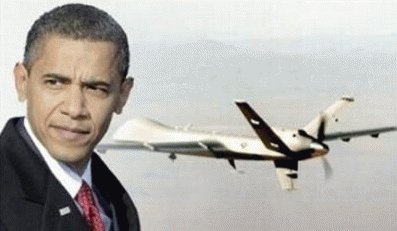 172 children have been killed by Obama-ordered drone attacks

(

Image

by

ThisCantBeHappening

)

Details DMCA
Yes, I mean it: the worst ever!
We've had James Monroe and his doctrine of supremacy over Latin America. We've had Theodore Roosevelt and his invasion of Cuba; Nixon, Reagan, Bush-Bush and their mass murder, and all the war crimes and genocide committed by most presidents. Yes, but we never had a black man sit on the white throne of imperialism committing war crimes.
And there he is, murdering even more people in Afghanistan than Bush, backing coups in Latin America, continuing to undermine Iraq, sending drones, mercenaries, saboteurs to Pakistan, Somalia, Yemen, Uganda, Libya and now Syria. He bores deeper into several African countries, rich with oil and minerals, than his white predecessors, Democrats and Republicans. The US is eliminating the few secular governments that there were in the Middle East and North Africa.
Obama is busier fulfilling total USAmerican world domination than even Bush, Reagan and Nixon.
He is the president for US corporations. With his black Kenyan roots he can walk into Africa's rich parlors and black "White Houses" and communicate with these butchers better than any of the capitalist class' earlier presidents, all of them white.
Obama is worse than them, precisely because he betrays all his black "brothers and sisters" in the US, all except a few rich and opportunistic ones. He was the hope; he would improve their lot, and that of the poor, the working people. But he has done nothing of the sort. Instead, he takes from them to give to the rich, the worst criminals on Wall Street, the war industry, the oil and mineral industries. Virtually all of his economic advisors hail from Wall Street and in many cases were central figures in the enormous economic crimes of the last few years that have stolen hundreds of billions, even trillions of dollars from the poor and the middle class. His top militarists, Homeland Security thugs, and CIA killers are some of those that Bush used -- most of them Republicans.
(Note: You can view every article as one long page if you sign up as an Advocate Member, or higher).