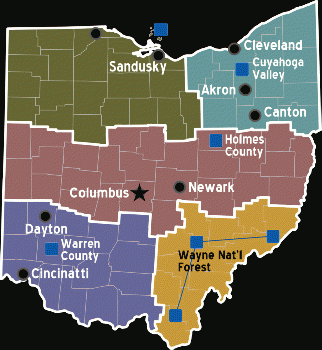 Map of Ohio Regions

(

Image

by

(From Wikimedia) User:(WT-shared) LtPowers

, Author:

User:(WT-shared) LtPowers

)

Details Source DMCA

Just after 12 noon on Wed, the NY Times, in Ohio Special Election Results: 12th Congressional District noted " (Republican) Troy Balderson leads by 0.9 percentage points, or 1,754 votes, over (Democrat) Danny O'Connor with 100 percent of precincts fully reporting."


The Democratic Legislative Campaign Committee Special Elections Team said, "Late last night, the final precincts reported in the critical special election for Ohio's 12th congressional district -- and the result is still too close to call. The candidates are now separated by less than a percent, and the outcome will be decided by thousands of uncounted absentee and provisional ballots that will be opened ten days from now.

"But the real story here is that this race was even this close: This was yet another dark-red, gerrymandered district Republicans have long considered safely theirs for over three decades. But they're losing district after district just like it in elections under Donald Trump, including 44 red-to-blue flips in state legislative races nationwide. That's simply HISTORIC!"

The tides, they are a-changin.