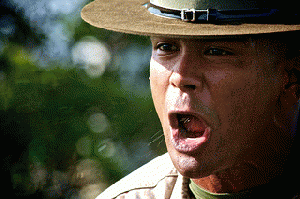 Any new republican candidate is obligated to out-militarize his opponents.
(
Image
by
DVIDSHUB
)
Details
DMCA
Every election needs an organizing catchphrase and that goes doubly for the Republican presidential race, with 16 candidates having entered the fray and more on the way. I think I have the perfect one for the moment: "You've been Trumped!" After all, one striking thing about the Republicans, now that they've morphed into the party of war, is that any new candidate is obligated to out-militarize his opponents, no matter what they've claimed they'd do. This has given the old World War I trench-warfare phrase going "over the top" (that is, over the parapet to attack) new meaning.
Take for example Donald Trump. On entering the race, he promptly Trumped his competitors by claiming that he was nothing short of a military genius and swearing that, for our present war in the Middle East, he would instantly find a "General Patton" or a "General MacArthur," that is, a leader capable of finally putting our military in the win column. But for him generals were a secondary concern because Commander-in-Chief Trump has his own unstoppable plan for destroying the Islamic State. Here's how he put it: "Take back the oil. Once you go over and take back that oil, they have nothing. You bomb the hell out of them, and then you encircle it, and then you go in. And you let Mobil go in, and you let our great oil companies go in. Once you take that oil, they have nothing left." Encircle it, yes!
And the ante's only going up. By now, saying that, on your first day in the Oval Office, you'll tear up the Iran nuclear accord (should it pass Congressional scrutiny in the first place) is chump (or possibly Trump) change -- and so is the idea that American ground troops must be sent into Iraq War 3.0. Candidate Rick Santorum made headlines by calling for 10,000 of them to be dispatched to Iraq and was promptly Trumped by Senator Lindsey Graham, who saw his 10,000 in Iraq and raised him 10,000 more in Syria, and they both were Trumped by Senator Marco Rubio who threatened to deploy "devastating" American air power while riffing off a bloodcurdling line from the action movie Taken: "We will look for you, we will find you, and we will kill you." (Duck, ISIS!)
Former New York Governor George Pataki ("[S]end in troops, destroy their training centers, destroy their recruitment centers, destroy the area where they are looking to plan to attack us here, and then get out.") essentially Trumped himself by merely calling for American ground troops to head for ISIS's territory, as did Ohio Governor John Kasich speaking with New Hampshire voters a day after entering the race as number 16. ("Let's just do it!") But give credit where its due, Wisconsin Governor Scott Walker (number 15), who once compared fighting ISIS to fighting labor unions in his state, Trumped them all by insisting that he would not only tear up the Iranian nuclear accord on day one of his presidency, but that, between his swearing in and the inaugural ball that night, he might well launch military action, assumedly against Iran. To the rest of the Republican field: You've been Trumped!
And you know how it is once things get rolling, so sit back and wait for the next Trump card to be played in the theater of the absurd that is now "mainstream" Republican thinking about American-style war. It's over the top for us all, it seems. In that context consider State Department whistleblower and TomDispatch regular Peter Van Buren's take on what, amid all the sound and fury, the bottom line really is on the nuclear accord with Iran. Tom
The Balance of Power in the Middle East Just Changed
U.S.-Iranian Relations Emerge from a 30-Year Cold War
By Peter Van Buren

Don't sweat the details of the July nuclear accord between the United States and Iran. What matters is that the calculus of power in the Middle East just changed in significant ways.

Washington and Tehran announced their nuclear agreement on July 14th and yes, some of the details are still classified. Of course the Obama administration negotiated alongside China, Russia, Great Britain, France, and Germany, which means Iran and five other governments must approve the detailed 159-page "Joint Comprehensive Plan of Action." The U.N., which also had to sign off on the deal, has already agreed to measures to end its sanctions against Iran.

If we're not all yet insta-experts on centrifuges and enrichment ratios, the media will ensure that in the next two months -- during which Congress will debate and weigh approving the agreement -- we'll become so. Verification strategies will be debated. The Israelis will claim that the apocalypse is nigh. And everyone who is anyone will swear to the skies that the devil is in the details. On Sunday talk shows, war hawks will fuss endlessly about the nightmare to come, as well as the weak-kneedness of the president and his "delusional" secretary of state, John Kerry. (No one of note, however, will ask why the president's past decisions to launch or continue wars in the Middle East were not greeted with at least the same sort of skepticism as his present efforts to forestall one.)

There are two crucial points to take away from all the angry chatter to come: first, none of this matters and second, the devil is not in the details, though he may indeed appear on those Sunday talk shows.

Here's what actually matters most: at a crucial moment and without a shot being fired, the United States and Iran have come to a turning point away from an era of outright hostility. The nuclear accord binds the two nations to years of engagement and leaves the door open to a far fuller relationship. Understanding how significant that is requires a look backward.

A Very Quick History of U.S.-Iranian Relations

The short version: relations have been terrible for almost four decades. A slightly longer version would, however, begin in 1953 when the CIA helped orchestrate a coup to oust Iran's democratically elected prime minister, Mohammad Mosaddegh. A secular leader -- just the sort of guy U.S. officials have dreamed about ever since the ayatollahs took power in 1979 -- Mosaddegh sought to nationalize Iran's oil industry. That, at the time, was a total no-no for Washington and London. Hence, he had to go.

In his place, Washington installed a puppet leader worthy of the sleaziest of banana republics, Shah Mohammad Reza Pahlavi. The U.S. assisted him in maintaining a particularly grim secret police force, the Savak, which he aimed directly at his political opponents, democratic and otherwise, including the ones who espoused a brand of Islamic fundamentalism unfamiliar to the West at the time. Washington lapped up the Shah's oil and, in return, sold him the modern weapons he fetishized. Through the 1970s, the U.S. also supplied nuclear fuel and reactor technology to Iran to build on President Dwight Eisenhower's "Atoms for Peace" initiative, which had kicked off Iran's nuclear program in 1957.

In 1979, following months of demonstrations and seeing his fate in the streets of Tehran, the Shah fled. Religious leader Ayatollah Khomeini returned from exile to take control of the nation in what became known as the Islamic Revolution. Iranian "students" channeled decades of anti-American rage over the Shah and his secret police into a takeover of the American Embassy in Tehran. In an event that few Americans of a certain age are likely to forget, 52 American staffers were held hostage there for some 15 months.

In retaliation, the U.S. would, among other things, assist Iraqi autocrat Saddam Hussein (remember him?) in his war with Iran in the 1980s, and in 1988, an American guided missile cruiser in the Persian Gulf would shoot down a civilian Iran Air flight, killing all 290 people on board. (Washington claimed it was an accident.) In 2003, when Iran reached out to Washington, following American military successes in Afghanistan, President George W. Bush declared that country part of the "Axis of Evil."
(Note: You can view every article as one long page if you sign up as an Advocate Member, or higher).