This article originally appeared at TomDispatch.com.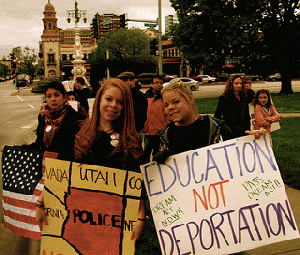 DSC03177
(
Image
by
DreamActivist
)
Details
DMCA
Is there a category of human beings who, in election 2016, have been the focus of more negative attention, fear-mongering, or worse press than immigrants, especially undocumented ones coming from or through Mexico (those infamous "rapists")? I doubt it. Thought of in another way, such immigrants seem to be the only "lobbying group" capable of convincing Republican politicians that our crumbling infrastructure needs to be shored up -- hence those monster walls to come along the Mexican border. Immigrants, it's now well known, are a shiftless bunch of criminals, or as Donald Trump put it, "If you look at the statistics of people coming, you look at the statistics on rape, on crime, on everything coming in illegally into this country it's mind-boggling!"
And don't forget the terrorist types supposedly worming their way in among refugees -- another category of immigrants -- fleeing the chaos the U.S. had such a hand in creating in Syria and Iraq. Those lost souls looking for asylum here have been a particular target of Republican candidates and office holders eager to ban them from coming anywhere near this country or at least their states. Put it all together and you have a witch's brew when it comes to the land of the free and home of the... well, whatever.
So imagine the national shock (had anyone been paying attention) that "The Criminalization of Immigration in the United States," a study by researchers Walter A. Ewing, Daniel E. Martnez, and Ruben G. Rumbaut released last July through the American Immigration Council, should have caused here. The three scholars offered truly shocking news. They crunched the latest numbers and confirmed decades of other studies showing that immigration does anything but increase U.S. crime rates. Immigrants, legal and otherwise, are charged with far fewer "serious crimes" and are jailed far less often than the native born.
To be specific, their study found that "1.6% of immigrant males age 18-39 are incarcerated, compared to 3.3% of the native-born. This disparity in incarceration rates has existed for decades, as evidenced by data from the 1980, 1990, and 2000 decennial censuses. In each of those years, the incarceration rates of the native-born were anywhere from two to five times higher than that of immigrants." The same, by the way, holds true for incarceration rates "among the young, less-educated Mexican, Salvadoran, and Guatemalan men who make up the bulk of the unauthorized population."
How in the world do such definitive hard numbers fit with the overwrought sense of fear and alarm, the myth-making about immigrants alive in the country today? In her second TomDispatch post, Aviva Chomsky offers an interesting answer: it's not that hard to create a nightmare vision of immigrants when they are almost never seen by the Americans you are scaring the hell out of. Their invisibility in our world ensures that just about any picture can be painted of them without fear of contradiction because there's nothing in most of our lives to which to compare it. So consider today just one recent case in which, however briefly, that cloak of invisibility began to be lifted from the remarkably lawful, remarkably hardworking immigrants who are the target of so much calumny this election season. Tom
All the News That's Fit to Print
How the Media Hide Undocumented Workers
By Aviva Chomsky

In our post-modern (or post-post-modern?) age, we are supposedly transcending the material certainties of the past. The virtual world of the Internet is replacing the "real," material world, as theory asks us to question the very notion of reality. Yet that virtual world turns out to rely heavily on some distinctly old systems and realities, including the physical labor of those who produce, care for, and provide the goods and services for the post-industrial information economy.

As it happens, this increasingly invisible, underground economy of muscles and sweat, blood and effort intersects in the most intimate ways with those who enjoy the benefits of the virtual world. Of course, our connection to that virtual world comes through physical devices, and each of them follows a commodity chain that begins with the mining of rare earth elements and ends at a toxic disposal or recycling site, usually somewhere in the Third World.

Closer to home, too, the incontrovertible realities of our physical lives depend on labor -- often that of undocumented immigrants -- invisible but far from virtual, that makes apparently endless mundane daily routines possible.

Even the most ethereal of post-modern cosmopolitans, for instance, eat food. In twenty-first-century America, as anthropologist Steve Striffler has pointed out, "to find a meal that has not at some point passed through the hands of Mexican immigrants is a difficult task." Medical anthropologist Seth Holmes adds, "It is likely that the last hands to hold the blueberries, strawberries, peaches, asparagus, or lettuce before you pick them up in your local grocery store belong to Latin American migrant laborers."

The same is true of the newspaper. The invisible links between two mutually incomprehensible worlds were revealed to many in the Boston area at the end of December when the Boston Globe, the city's major newspaper, made what its executives apparently believed would be a minor change. They contracted out its subscriber delivery service to a new company.

Isn't newspaper delivery part of the old economy and so consigned to the dustbin of history by online news access? It turns out that a couple of hundred thousand people in the Boston area -- and 56% of newspaper readers nationwide -- still prefer to read their news in what some dismissively call the "dead tree format." In addition, despite major ad shrinkage, much of the revenue that allows newspapers to offer online content still comes overwhelmingly from in-print ads.

The Globe presented the change as a clean, technical move, nothing more than a new contractor providing newspaper delivery for a lower cost. But like so many other invisible services that grease the wheels of daily life, that deceptively simple task is in fact provided thanks to grueling, exploited labor performed by some of society's most marginalized workers, many of them immigrants and undocumented.

In this respect, newspaper delivery shares characteristics with other forms of labor that link the privileged with the exploited. This is especially true in Boston, recently named the most unequal city in the country. Some of the most dangerous, insecure, and unpleasant jobs with the lowest pay and a general lack of benefits provide key goods and services for citizens who undoubtedly believe that they never interact with immigrants or receive any benefits from them.
(Note: You can view every article as one long page if you sign up as an Advocate Member, or higher).