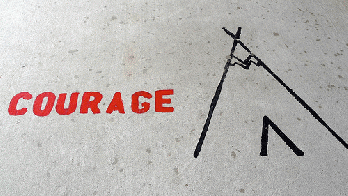 Courage

(

Image

by

Nicole Yeary

)

Details DMCA

Reprinted from newint.org by Vanessa Baird

Sometimes the unarmed, but brave, have the greater power. This protester is confronting Louisiana police after the killing by police of yet another African-American youth. - Jonathan Bachman/Reuters

Who doesn't love a tale of courage?

They pop up in all cultures, traditions and eras. From shepherd-boy David facing giant Goliath, to Gilgamesh defeating the monster Humbaba, to Harry Potter and friends confronting deadly Lord Voldemort.

There's something exhilarating about individuals, pitted against the odds, rising above fear and narrow concerns about self-preservation.

And when real life provides examples of valour, our faith in human nature, in the possibility of virtue, is enhanced.

Take the passengers who in 2015 tackled and disarmed an AK47-wielding terrorist on a French train, saving who knows how many lives.

Or an ordinary -- and extraordinary -- woman called Ingrid Loyau Kennett, who in May 2013 was travelling on the number 53 bus when she spotted a young soldier, Lee Rigby, being knocked down and brutally hacked to death on a London street.

Ingrid leapt off the bus and tried to save Rigby's life -- in vain; his head had been almost severed. Then she went right up to his two assailants (armed with machete, meat cleaver and pistol) and talked to them -- for 12 long minutes -- until help arrived.

Her aim, she later said, was to keep them occupied so that they would not go on to attack more people, including women and children who had gathered nearby. When help arrived, she got back on a bus and continued her journey. In interviews later, she said she did not see her actions as heroic -- she was just doing her job 'as a human being'.

So what is courage?

To Aristotle it was a virtue, the greatest quality of the mind. For Richard Avramenko, who teaches political science at the University of Wisconsin, courage is the primary means by which humans raise themselves out of their individualistic, isolated and materialistic existence.

He writes: 'Courage" is the willingness to risk life and limb for the sake of something. In other words, courage reveals what we care about" It reveals that which inspires us to overcome ourselves. And it is the self-overcoming character of courage that makes it so poignant. When we are witness to real acts of courage, we know immediately what matters most fundamentally to the courageous actor -- and it is not herself, not her own physical well-being.' 1

In praising fearlessness we may be making a virtue of deficiency

Physical bravery attracts most attention, winning honours and awards. But courage takes many forms -- moral, intellectual, emotional, psychological, political, social, spiritual, financial"

(Note: You can view every article as one long page if you sign up as an Advocate Member, or higher).