The blockbuster pill profit party is over for Big Pharma. Bestselling pills like Lipitor, Seroquel, Zyprexa, Singular and Concerta have gone off patent with nothing new in the product pipeline. But Pharma isn't going to deliver disappointing earnings to Wall Street just because it has few new drugs coming online and has failed at its very purpose. It is recycling old for brand new uses.
Repurposing Ritalin
Now that Pharma's succ eeded in getting five million children and four to eight million adults diagnosed with ADHD, it's looking for new markets for the drugs. One new use for Ritalin (methylphenidate), the grandfather of ADHD drugs, could be for eating disorders. Researchers say a woman who suffered from bulimia nervosa, bipolar I disorder, cocaine and alcohol dependence, attention-deficit hyperactivity disorder and panic disorder "achieved a sustained (>1 year) remission" when methylphenidate was added to her other drugs.
Then there's pregnant women. A new paper suggests that women should stay on their methylphenidate during pregnancy because taking it away may "may present a significant risk" and that, "In all cases, children developed normally and no adverse effects were reported," though they were exposed in utero. Yes, kids can be given ADHD meds at even younger ages--as fetuses.
Pharma is also looking at the elderly as a new market for ADHD drugs. Methylphenidate may "improve gait function in older adults," researchers wrote recently. And a major clinical trial sponsored by Johns Hopkins Bloomberg School of Public Health is underway to see if methylphenidate can reduce apathy in Alzheimer patients. Of course many Alzheimer patients don't have apathy but agitation and aggression; they will be excluded.
Insomnia Drugs for Depression
Insomnia has been a gold mine to Pharma because everyone sleeps or watches late night TV when they can't. To goose the insomnia market, Pharma has created subcategories of insomnia-- chronic, acute, transient, initial, delayed-onset and middle-of-the-night as well as early-morning wakening non-restful sleep. Your insomnia is as unique as you are! It is also no coincidence that "wakefulness" medications cause insomnia and insomnia drugs, because of their hangover, create a market for wakefulness drugs.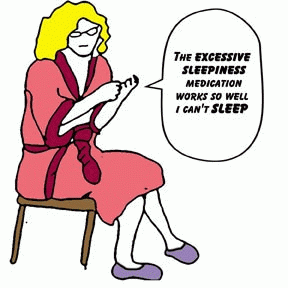 There's a pill for that..and another and another
(
Image
by
Martha Rosenberg
)
Details
DMCA
(Note: You can view every article as one long page if you sign up as an Advocate Member, or higher).