'No Place Like Om' quilted fiber art by Meryl Ann Butler (detail)
(
Image
by
c. Meryl Ann Butler
)
Details
DMCA
All images shown here of Meryl Ann Butler's art are copyrighted by Meryl Ann Butler.
Home, sweet home.
Whether looking for home in Dorothy's Kansas or in the Dalai Lama's Tibet, the journey to find one's true home is a "Hero's Journey." Joseph Campbell said, "You enter the forest at the darkest point, where there is no path... If there is a path, it is someone else's path and you are not on the adventure."
My deep interest in the displacement of the Dalai Lama and the people of Tibet was enhanced during my own decade-long adventure in homelessness. The concept for this work of fiber art, "No Place Like Om" emerged during my musings during that time.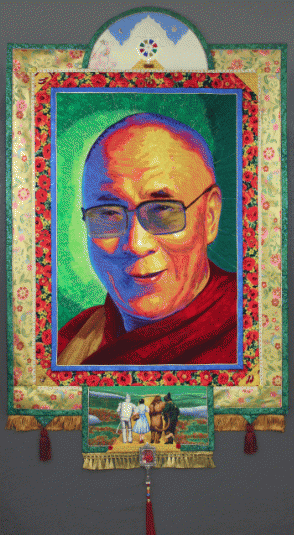 'No Place Like Om' quilted fiber art by Meryl Ann Butler
(
Image
by
Meryl Ann Butler
)
Details
DMCA
This art quilt honors the Dalai Lama's joy, wisdom, and sense of humor, as well as his playful interest in Western culture and film. And it explores the archetypes of the journey home through connections with one of the most beloved films ever made, "The Wizard of Oz."
Next Page 1 | 2 | 3 | 4 | 5 | 6 | 7 | 8 | 9 | 10
(Note: You can view every article as one long page if you sign up as an Advocate Member, or higher).