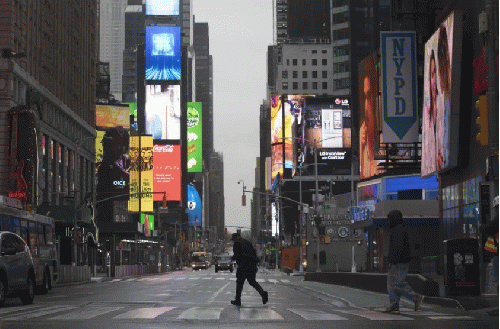 The capitalist 'great reset' and the descent into techno-tyranny
(
Image
by
Rainer Shea blog
)
Details
DMCA
Covid-19 has brought about the era of biopolitics, an era that will continue for the foreseeable future. This is because the virus is far from being defeated; a resurgence of it is likely to happen this fall, and the neoliberal world's refusal to sacrifice business for public health is sure to perpetuate the pandemic for as long as neoliberalism exists. Biopolitics is also here to stay because we've reached a point in the climate crisis where global weather patterns are much more compatible with viruses than they used to be. More viruses are going to appear in the coming years with increasing ferocity, while will necessitate an irreversible series of changes to how society functions.
What kinds of changes do multinational corporations and their partnered governments want to enact in response to this permanent crisis? Whatever they end up doing, the narratives of biopolitics are what will be used to sell it to the masses; we'll be told that all of the corporatocracy's measures are for our own safety, and that anyone who objects to these measures is working in the service of an enemy power.
This is at least how biopolitics is taking shape within the core imperialist countries. Preoccupied with an escalating cold war against China, the U.S., the U.K., Australia, and the other countries in the NATO empire are stirring up anti-Chinese sentiment by falsely blaming China for the pandemic. The economic isolationism from China that these countries are increasingly embracing goes along with their desire for what they call a "great reset" to their economic systems, where the initial damages to corporate profit from the pandemic are compensated for by a new approach to ordering how their societies work.
The first part of this "great reset" is the use of biopolitics to justify a growing amount of corporate censorship. In this last week alone, Venezuelan regime change operatives have blacklisted several anti-imperialist media outlets so that they can no longer be used as sources on Wikipedia, Twitter has deleted 170,000 accounts for "spreading narratives favorable to the Communist Party of China," and Facebook has added misleading labels on Russian and Chinese media outlets about these outlets being "state controlled." All these geopolitically motivated actions are reflective of big tech's recent trend of openly working with governments to censor "dangerous" material related to the pandemic; because of the precedent this trend has set, suppressing dissent is now easier than ever.
Such is the deceptive nature of the narrative about the tech industry acting as an unambiguous force for good during the "great reset." There's been talk in the media and in elite circles about big tech needing to radically restructure how it manages online information; for example, a recent article on the "great reset" from the World Economic Forum says that "The use of digital technology during the COVID-19 crisis offers clear lessons: focus on the safety of essential organizations; protect work-from-home capabilities; and target mistrust broadly to enable specific crisis-relevant tech."
The article was talking about mistrust as it relates to digital tools, but the same kind of language is what's also being used in the effort to preserve trust in military, media, intelligence, and law enforcement institutions. The solution to this kind of mistrust is evidently to remove online content deemed to be "misinformation."
Other statements about the "great reset" that are being put forth by the Western capitalist intelligentsia have to do with adapting the global economic system to the challenges it's facing. This month, managing director of the International Monetary Fund Kristalina Georgieva made a statement saying that "From the perspective of the IMF, we have seen a massive injection of fiscal stimulus to help countries deal with this crisis, and to shift gears for growth to return. It is of paramount importance that this growth should lead to a greener, smarter, fairer world in the future."
(Note: You can view every article as one long page if you sign up as an Advocate Member, or higher).