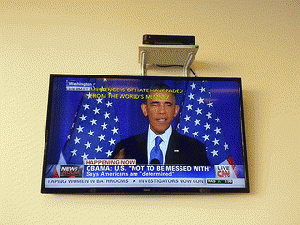 Not to be messed with

(

Image

by

allaboutgeorge

)

Details DMCA


Not to be messed with by allaboutgeorge


CNN photo of President Obama under the headline Obama, "U.S. Not To Be Messed With"

Unable to achieve a "coalition of the willing" with the British Parliament yesterday nixing Prime Minister David Cameron's plea for Britain to join the U.S. in attacking Syria, the White House says, "Obama can act alone".

What the "legal" basis for this latest misadventure by the U.S. government is simply : The President can do it. What else is there?

White House spokesmen have said he doesn't have to go to Congress, the U.N. Security Council is certain to veto the idea and besides "it's too late" as far as waiting for the U.N. chemical inspectors to give their report on the alleged gas attacks in Syria nine days ago.

Besides the British Parliament some 200 members of the U.S. House of Representatives in a rare bi-partisan showing want the president to present his case to the Congress before taking any action on Syria.

And according to accounts by a few high ranking retired military officers as well as some active duty officers, all have expressed skepticism of what would be the end game of a missile attack on Syria with deep concerns of what surely will be unintended consequences spurred by such an attack.

Of course the specter of the Bush administrations false account of Iraq's Saddam Hussein having WMD in 2003 weighed heavily in the British Parliament's decision and presumably behind the 200 members of the House being skeptical of the administrations plans to attack.

(Note: You can view every article as one long page if you sign up as an Advocate Member, or higher).