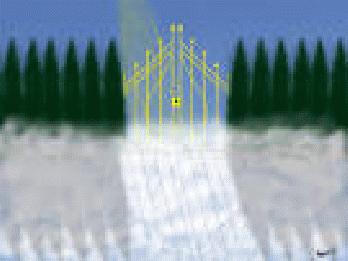 Gates to Heaven by xlilDark on DeviantArt600 Ã-- 450 - 42k - jpg
(
Image
by
xlildark.deviantart.com
)
Details
DMCA
"Hatter," said the White Rabbit. "Both of us have spent time in the loony bin, and yet I feel that we are saner than our leaders."
"Yes," the Mad Hatter said, after swallowing a sip of tea. "Merely yes. By the way, where is your little blond-haired friend today?"
"Joined a peace march downtown. I gave her a couple of thou to make sure she had enough bail money, just in case."
The Mad Hatter sighed. "Ah, youth. These old bones would shatter against a billyclub nowadays. So what are you reading there, my dear Rabbit?"
"'Without Conscience, The Disturbing World of the Psychopaths Among Us,' by Dr. Robert Hare." Rabbit added, "No relation."
A chuckle. "So what did you wish to run by me today?"
"Psychopaths and sociopaths. It's got me to thinking." The Rabbit paused. "Um, have you ever killed anyone?"
"Me? Oh, heavens no, I've never been that mad. Nor am I a psychopath. I rather prefer to be perceived as 'eccentric'."
"Well, neither have I, no surprise." The Rabbit held up a paw. "Nor have any of my family, friends, neighbors, colleagues, fellow parishioners, local vendors, I could go on."
"You certainly do. And?"
"Well, my point is, none of us have ever killed another person. And I hope we never will."
"I would echo that hope most sincerely, my friend," said the Hatter. "So, yes, I can reassure you that we are likely not psychopaths." Another sip of tea. "You seem un-reassured."
"Well, according to all the stuff I've been reading on this topic, you're right. We're not. But, there are psychopaths living among us--and most of them aren't murderers. In fact, some are quite successful--and respected."
The Hatter yawned.
"There is a line," the Rabbit continued, "that most of us will not cross, except perhaps to save ourselves or our loved ones, and that is murder."
(Note: You can view every article as one long page if you sign up as an Advocate Member, or higher).