Reprinted from The Nation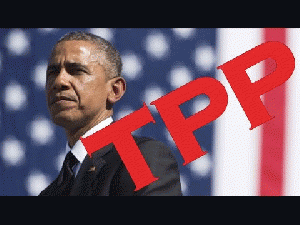 The fight over Trade Promotion Authority was never about Barack Obama, despite the best efforts of the White House and many in the media to portray it as such. The president's effort to obtain congressional consent to "fast-track," a sweeping Trans-Pacific Partnership agreement, which failed Friday amid a complex flurry of House votes, was about something that runs far deeper: frustration on the part of Americans with race-to-the-bottom trade policies as defined by the North American Free Trade Agreement and extended across ensuing agreements.
This is something the president and his allies need to recognize as they revisit fast track and trade issues -- not just in advance of an expected "revote" on a key measure Tuesday but in the weeks and months to come. America is moving beyond the point where a politics of partisanship or personality is sufficient to secure support for "free trade" policies that have not worked and that will not work.
The free trade model that has been promoted for decades by Democratic and Republican presidents, along with Wall Street interests and multinational corporations, has failed American workers and communities -- and millions of Americans who were part of the president's winning coalitions in 2008 and in 2012 recognize this.
Like presidents before him, Obama sought fast-track authority in order to make it easier to engage in trade negotiations, in particular, and international relations, in general. His harshest critics suggested that he was selling out to the Wall Street interests that provided substantial support for his 2012 reelection campaign. The president argued that he merely wanted flexibility so that he could develop better deals than past presidents. Whatever the calculus, Obama could not convince his fellow partisans to give him -- and his successor -- the authority he sought. Too many failures in the past, too many unmet promises, had left no room for traditional appeals on the grounds of party loyalty or personal connections.
(Note: You can view every article as one long page if you sign up as an Advocate Member, or higher).