Reprinted from Gush Shalom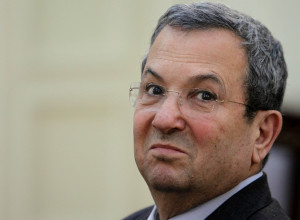 SUDDENLY, A familiar face, almost forgotten, appeared on the TV screen. Well, not entirely familiar, because it now sports a prominent black beard. (If I were he, I would quickly shave it off.)
Yes, there he was. Former Chief of Staff, former Prime Minister, Ehud Barak.
Barak in a new format. Aggressive. Outspoken. Damning Binyamin Netanyahu in no uncertain terms. Repeating almost word for word my warning that Netanyahu has lost his senses. Saying that Netanyahu "has gone off the rails," and that there are now "signs of fascism" in Israel.
The entire country woke up and listened. Barak back again? At long last, a man who could possibly defeat Netanyahu?
Barak denied that he was a potential candidate for Prime Minister. Nobody believed him. Every commentator worth his or her salt began speculating about plans for a new party. Why not Barak together with Moshe Ya'alon, the former Chief of Staff and Minister of Defense just kicked out by Netanyahu? Why not with Gabi Ashkenazi, another former Chief of Staff, who has the additional advantage of being an oriental Jew? The air was full of names bandied around.
There was a new atmosphere. A widespread feeling that "Bibi must go." A new feeling that there is a realistic possibility of getting rid of him and of Sarah'le, his unpopular wife.
I HAVE a slight problem with that. It can be summed up with the place-name: Camp David.
For me, Camp David was a historic turning point. Until the Camp David conference, July 2000, there was optimism about peace. Since the conference, peace disappeared from the scene.
For me, the man bearing almost sole responsibility for that was Ehud Barak.
Let me recount the events, as I saw them at the time.
President Bill Clinton was eager for a major triumph before ending his term of office. Since President Jimmy Carter before him had achieved a major success in Camp David with the Israeli-Egyptian peace agreement, he was aiming for an even bigger historic triumph with an Israeli-Palestinian peace.
The Palestinian partner, Yasser Arafat, was reluctant to attend. He pointed out, quite rightly, that no preparatory work had been done by expert committees, and feared becoming a nut in the American-Israeli nutcracker.
Clinton finally succeeded in dragging him to Camp David, after promising that in the event of failure, he -- Clinton -- would blame no side. He later broke this promise without compunction.
So Arafat went to the conference in a very suspicious mood, ready to beware of traps, not expecting any breakthrough. He was certain that Clinton and Barak would gang up against him.
THE CONFERENCE lasted an unforeseen 14 days. During all this time, Barak and Arafat did not meet a single time in private. Barak did not visit Arafat, nor did he invite him to his private quarters, a hundred yards away.
(Note: You can view every article as one long page if you sign up as an Advocate Member, or higher).