Trying to back up his wartime reporting claims, O'Reilly selectively quotes the New York Times--but the Times reporter refutes him.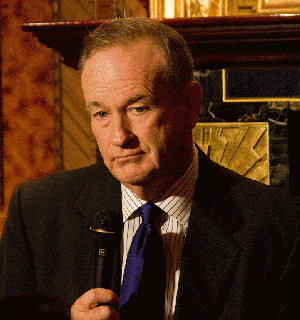 Bill O'Reilly
(
Image
by
(From Wikimedia) Justin Hoch photographing for Hudson Union Society
, Author:
Justin Hoch
photographing for
Hudson Union Society
)
Details
Source
DMCA
Last week, after Mother Jones published an article by Daniel Schulman and me reporting on Bill O'Reilly's mischaracterizations of his wartime reporting experience, the Fox News host replied with insult, denial, threatening rhetoric, and bombast.
Insult: He called me a "liar," a "despicable guttersnipe," and "garbage."
Denial: Though the story included video of O'Reilly stating he had been "in a war zone in Argentina, in the Falklands," O'Reilly insisted, "I never said I was on the [Falklands] island, ever."
Threatening rhetoric: In one of his many comments to other reporters (while continuing to ignore the questions we sent him before publication), O'Reilly declared that I deserve "to be in the kill zone."
Bombast: O'Reilly proclaimed, "Everything I said about my reportorial career -- EVERYTHING -- is accurate."
And that was just in the first 24 hours. Eventually, O'Reilly added another element to his arsenal: proofiness.
After nearly a day of hurling invective, O'Reilly opened his cable show Friday night with a monologue that assailed me as a smear-meister. But he also tried to win the day by producing documents that, he asserted, showed how he had been unfairly tarred. "In what I consider to be a miracle," he declared, "I found this CBS internal memo from 33 years ago praising my coverage" of a protest in Buenos Aires that happened just as the 1982 Falklands war ended.
Our article had pointed out that O'Reilly's later accounts of this protest -- which he called a "combat situation" -- contained significant contradictions with the factual record. He has claimed that soldiers fired into the crowd, that "many" people were killed, and that "I was out there pretty much by myself because the other CBS correspondents were hiding in the hotel." (The Mother Jones article said nothing about how O'Reilly covered the protest at the time.)
Go to Mother Jones to read the rest of this article.