From Consortium News
Saudi King Salman bids farewell to President Barack Obama at Erga Palace after a state visit to Saudi Arabia on Jan. 27, 2015.
(
Image
by
(Official White House Photo by Pete Souza)
)
Details
DMCA
If someone wants to become somebody in Official Washington, there are certain lies that you must assert as undeniable truths, almost like flashing a secret sign to gain entry to an exclusive club. For instance, you must say that Iran is the world's "chief sponsor of terrorism" though that is patently false.
The problem is that a much bigger sponsor of terrorism is Saudi Arabia, with some competition from Qatar, but those two Gulf states are extremely wealthy U.S. "allies" and their hatred of Iran is shared by Israel, which possesses the most intimidating foreign lobby in Washington. So, deviation from the "Iran-chief-sponsor-of-terrorism" mantra marks you as someone who is not part of the club and never will be.
Yet, while lies may be the mother's milk of Official Washington, there are severe costs paid by the American people and even more by the people of the Middle East who have suffered from the bloody consequences of this particular lie because it has been at the root of a series of misguided U.S. interventions, which themselves have spread widespread terror.
The U.S. government allied itself with Saudi Arabia in building the modern Islamic terrorism movement in the 1980s when the Reagan administration went in 50/50 with Saudi Arabia to finance and arm the Afghan mujahedeen -- a project costing billions of dollars -- to fight a merciless war against Soviet troops defending a leftist, secular regime in Kabul.
That war not only opened the gates of Kabul to the likes of Saudi jihadist Osama bin Laden and the Taliban but it created the methodology and means for the Saudis to expand their Sunni proxy wars against various Shiite "apostates" and secularists across the region.
Though hailed in U.S. propaganda as noble freedom fighters, the mujahedeen routinely sodomized, tortured and murdered captured Russian soldiers and put Afghan women back into prehistoric servitude. After the Taliban prevailed in 1996, they castrated Afghan President Najibullah and hung his mutilated body from a light pole. In the years that followed, there were plenty of public beheadings for violating the Taliban's fundamentalist teachings, which were shared by Saudi officialdom.
From the "successful" Afghan experience, the Saudi intelligence agency recognized the value of using Sunni fundamentalist fanatics as the tip of the spear in wars against Middle East secularists and Shiites, including Shia Islam's spinoffs, such as Alawites and Houthis.
The Saudis also recognized the value of influencing Official Washington, which the kingdom had tried to do by creating its own lobby based on spreading around lots of money. But that Saudi effort was blunted by Israel and its lobby, which didn't want to share its unmatched influence over the U.S. government.
So, the Saudis found it easier to "rent" the Israel Lobby by developing covert ties with Israel and quietly paying Israel billions of dollars. The Saudi dollars, in effect, replaced the money that Israel had been getting from Iran during the 1980s when Israel brokered Iran's arms sales. As part of the Israeli-Saudi under-the-table alliance, the two countries agreed that Iran and the so-called "Shiite crescent" -- stretching from Tehran through Damascus to Hezbollah neighborhoods of Beirut -- were their joint strategic enemies.
Behind the combined clout of politically influential Israel and financially powerful Saudi Arabia, the script was written for U.S. politicians, pundits and officials to recite: "Iran is the chief sponsor of terrorism."
This dogma is repeated again and again, including by retired Generals James Mattis and Michael Flynn, President-elect Donald Trump's choices for Defense Secretary and National Security Advisor, respectively. But the terror groups that Americans fear most, such as Al Qaeda and Islamic State, are supported by Saudi Arabia and other Gulf States, not by Iran.
Hillary Knew Well
And this reality is well known to senior U.S. officials even though it is never openly acknowledged. For instance, classified documents provided to WikiLeaks included diplomatic cables from then-Secretary of State Hillary Clinton and top advisers recognizing that violent jihadist groups were raising millions of dollars from Saudi Arabia, an inconvenient truth that even The New York Times has finally recognized.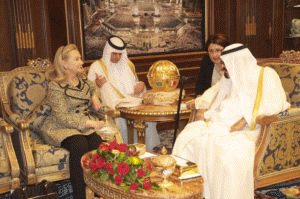 U.S. Secretary of State Hillary Clinton meets with Saudi King Abdullah in Riyadh on March 30, 2012.
(
Image
by
[State Department photo]
)
Details
DMCA
(Note: You can view every article as one long page if you sign up as an Advocate Member, or higher).