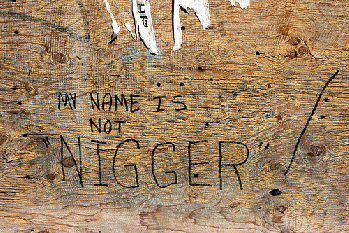 My name is not NIGGER
(
Image
by
quinn.anya
)
Details
DMCA
James Baldwin said, and I paraphrase, "I'm not a n-word. I'm a man. If you need me to be a n-word, it's your problem. You need to figure that out for yourself." And by doing so put the issue right back where it belongs. With "White People."
When I write White People with caps and in quotes, I don't mean people who have white skin. There are none. I mean White People as a class; a class based on economics and social status that gives them the power to affect everyone else in society with their prevailing values. (I call them prevailing because they change to fit the circumstances of maintaining their own power base.)
On the most natural and fundamental level, we're all people of color. I'm beige with a slight ting of pink and olive. There are those who are much lighter in tone and have far less power than I. There are those who are much darker in tone and have much more power than I.
No matter where one falls on the color scale, the issue of needing "a n-word" is still an appropriate issue to contend with. So exactly what is a n-word?
One dictionary defines it as "a contemptuous term for a black or dark-skinned person." This may explain why I was once called a "white n-word" by a student who didn't like the fact that I caught him plagiarizing his final paper in a class I taught. For him, I had dark enough skin not to be considered a "White Person," but just enough to be thought of as a white n-word. And I do understand how he could find me contemptuous because I refused to ignore and accept his indiscretion.
That instance was revealing because it exemplified Mr. Baldwin's admonition. There is probably no time in a person's life when he needs a n-word more than when he is caught doing something he's ashamed of but can't tolerate the idea of his own failures and weaknesses.
I think this is the nerve that's touched by Mr. Baldwin. Many in the racist segments of our society need to have niggers in their lives to submerge their own inadequacies. Their wholesale hate for a whole class of people is a dead giveaway. It points to the shadow sides in their own personalities. The places that are too scary to enter and explore.
I liken this to the process of homophobia that infects our society. I suspect that the more homophobic one is, the less confident they are in their own sexuality. And then there's the wholesale condemnation of Muslims. There just might be a weakness in one's own faith that's threatened by the presence of Islam in America.
This whole process is explained well in the psychological process called projection. Wikipedia defines it this way, "Psychological projection is a theory in psychology in which humans defend themselves against their own unpleasant impulses by denying their existence while attributing them to others."
So, if I were to take this to the next level, I would say that they more you need niggers in your life, the more you need to begin the exploration of your own psyche. The more you need "fags" in your life, the more you need to investigate your own sexuality. The more you need to brand all Muslims terrorists in your life, the more you need to examine your own strength of your faith. And a look at how strongly you buy into the destructive nationalism rampant in America today might be useful too.
At this point, it might seem like I'm pointing fingers at all the bad guys out there. I'm not. I have more than a touch of all the psychological issues I mentioned in this article. They reside in the shadows of my personality too.
My hope is we can use this time of open hostility toward anyone who doesn't fit the perfect model of the "White Class" to cast a beam of light into our own shadows.
Robert De Filippis