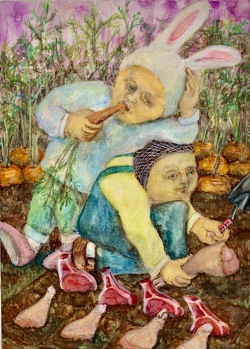 What Do We Get with Pint Size POTUS Pushing Pork Pies - Trumped
(
Image
by
Akemi Ohira
)
Details
DMCA
The most insulting thing about someone repeatedly lying to us is, our repeatedly believing the lies, makes us their tools.
But national and individual healing does not come by the slice. We need our entire pie. Begin by recognizing and admitting Russian assets Donald Trump and Rudy Giuliani and their domestic terrorists allies are merely the surface proof of America's divisive chasm. What lies beneath is our choices reparation or dissolution.
We need to ask any civilian or military uniformed person we know, to what are they loyal, America's Constitution and the freedoms it promises to all, regardless of color, race, religion, sexual preference or political persuasion, or to the purveyors and recipients of supreme dirty money, because when Donald Trump says we've got to open schools, he's known how life-threatening COVID-19 is, long before 220,000 American deaths, and his maskless Rose Garden super spreader of this pandemic, to betray RBG.
Like Big Tobacco roles, Exxon shows, Deepwater Horizon Haliburton beaus, Red Ash Coal & Flint Water souls, just as Opioid hoes with marketing polls have profited off family woes, leaving us disposed to QAnon/Trump duos aligned with American democracy foes - Trump knew, and knows.
Financiers self-absorbed by systemic superiority insulate Trump enablers, like Jim Jordan, Mark Meadows and Sen. David Perdue, allowing power-hungry Conservatives like Ted Cruz, Lindsey Graham, Mitch McConnell and Bill Barr to presume both sides of our national penny are tarnished green.
Assuming we are as cavalierly dismissive of American brown and black diversity as the thirteen trumped disciples now incarcerated for plotting to kidnap with intent to harm, two American Governors, they think us accessories.
They just can't believe our courageously standing for hours, despite a pandemic, to express our Exceptionalism : voting.
America has always had to struggle with those who believe oppressing brown, black and gay people is their legal inheritance. Loathing others, while in hiding until a leader of infamy capable of conning a majority, increases one's inability to distinguish between polished brass and the dawn's early light .
Steeped in fantasies of superiority over others distorts one's constitution, making the narrowminded prime prey for entering where life demands the price for patriotic hypocrisy: discovering we hate our neighbors as we hate ourselves.
The wise, however, are humbled by this revelation: Climate Change, Covid-19 and Donald Trump have accelerated our maturing as individuals, people and nation. We are no longer invading European adventurers, but a diverse nation seeking truth, balance and love for all, increasingly rejecting foreign hackers and domestic terrorists from backtracking our evolutionary progression.
Only fifty-five years after the defeat of our self-severed southern segment, did the resurrection of its true cause celeb begin anew to white out, this land is your land, this land is my land , with monumental Roaring Twenties reconstruction tributes to defeated generals, slave owners and at least one brief, but former Dixie president, allowed to escape by an assassinated Yankee one.
Yet, before Armistice Day could become Veterans Day, united we stood with white men amended by whites only female voters, to defeat allies of Red White and Blue Republicans Charles Lindbergh, Allen and John Foster Dulles, Ford, GM and Dupont - still believing no matter whose bed we shared, we were ultimately entitled. After all, hadn't we, alone, made the world safe for democracy - everywhere but here at home?
While clearly Trump remains his own worst enemy, he is America's as well . An enemy I have feared, if defeated, would escape to Russia on one last free Air Force One ride. This week our rogue president dropped the hint: " could you imagine if I lose?" "I'm not going to feel so good. Maybe I'll have to leave the country, I don't know."
(Note: You can view every article as one long page if you sign up as an Advocate Member, or higher).