Reprinted from RT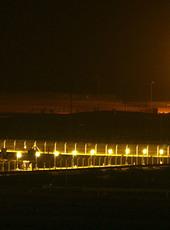 US Secretary of State John Kerry may be starting to enjoy the brinkmanship, as he says it's "unclear" whether the US and Iran would reach a political framework nuclear deal before the end of this month.
Loud applause may be heard in corridors ranging from Tel Aviv to Riyadh.
As negotiations resume in Lausanne, the fact is a potential nuclear agreement between Iran and the P5+1 (US, UK, France, BRICS members Russia and China, and Germany) is bound to open the possibility of more Iranian oil exports -- thus leading oil prices to fall even further. As of early this week, Brent crude was trading at $54.26 a barrel.
Assuming the US and the EU nations that are part of P5+1 really agree to implement the suspension of UN sanctions by the summer (Russia and China already agree), not only will Iran be exporting more energy -- that should take a few months - but also OPEC as a whole will be increasing its oversupply.
The EU badly wants to buy loads of Iranian energy -- and invest in Iranian energy infrastructure. Beijing, a key yet discreet member of the P5+1, is also watching these developments very carefully.
Whatever happens, for China this is a win-win situation, as Beijing keeps actively building up its strategic petroleum reserves profiting from low prices. And even as oil prices also remain under pressure from the strong US dollar -- which makes oil way more expensive if you are paying with a different currency -- that's certainly no problem for China, with its mammoth US dollar reserves.
The oil price war essentially unleashed by Saudi Arabia has hit Iran with a bang. The country may be down, but not out. There were no good options for Tehran except to try to keep its market share by offering the same discounts -- especially to Asia -- the Saudis are offering.
Tehran has been under a tsunami of nasty Western sanctions for years, which limit its ability to export oil and increase production. It's extremely difficult for the Iranian governments to reduce the gap of the expected revenue based on previous high oil prices.
Now the name of the game among major oil producers is to keep market share at all costs. Iran can't escape it -- as it needs to keep in check at all times the fear of oversupply and its desire to increase production. Some oil producing countries are definitely keeping upcoming oil supplies out of the market. The result is Iran will have serious trouble going for more production and more exports while trying to regain its pre-sanctions market share.
Wanna buy a Middle East condo?
While a sort of undeclared "oil war" is still far from reaching an endgame, the nuclear front promises some eye-popping breakthroughs.
Powerful -- if sometimes conflicting -- "Empire of Chaos" factions in Washington are actively entertaining the dream of transferring US military assets from the Middle East to Europe to keep ratcheting up the pressure on Russia, under the pretext of the "aggression" on Ukraine.
That might happen only after "control" of the Middle East is somewhat shared between Turkey, Iran, and to a much lesser extent, the House of Saud. For the notoriously wobbly "Don't Do Stupid Stuff" Obama administration's foreign policy, this development would be a key rationale behind the push for a successful P5+1 nuclear deal with Iran to be reached this summer.
Iran has already cultivated -- and blossomed -- its own sphere of influence. It's the Turkey-Saudi case that is way more complicated.
As much as Ankara is well aware of the fierce catfight for regional power between Tehran and Riyadh, it tries to maintain good relations with both.
Crucially it's in Syria that Ankara and Riyadh are almost on the same "Assad must go" page. Almost -- because in fact a pro-Muslim Brotherhood Turkey-Qatar alliance has found itself for four years in direct competition with a Salafi-boosting House of Saud.
(Note: You can view every article as one long page if you sign up as an Advocate Member, or higher).