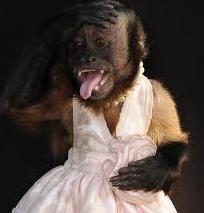 From papermag.com: Lady Gaga Tries On a Wedding Dress IRL + Crystal the Monkey Makes
(
Image
by
papermag.com
)
Details
DMCA
"The mid-summer Brazilian morning broke hot and damp. The hangover crouched in the corner of the hotel room. As soon as I opened one rheumy, scarlet eye it pounced and devoured any kindness or wellness still contained in my body. My new friend, Senhor Barbosa, had gleefully and generously introduced me to rum's less refined Brazilian cousin, cachaça. As I kneeled before the beautifully executed porcelain toilet I, between heaves, called him all my recently acquired Portuguese profanities.
I was in Miracema do Tocantins to do a story on a mystical beast that prowled about an abandoned quartz mine, brought forth by a recently deceased shaman. I was directed to Senhor Barbosa; a local historian and folklorist. He was a tall, athletic looking fellow in his early seventies. He attributed his good health to the daily eating of pineapple, which the region was famous for, and drinking of the local cachaça. This cachaça is much like the Mexican aguardiente but with a stronger, grassy, botanical bite. He eschewed all red meat, eating only one species of fish from the local Tocantins River. He very much liked to play volleyball on one of the town's beaches. He said his wife did not approve of him wearing brightly colored speedos. He chain-smoked fat, dusky, foul smelling cigars. The inhalation of his rancid second hand smoke all evening contributed, im sure, to my desire to drown myself that bright, humidly greasy morning. Senhor Barbosa spoke splendid English. He claimed he learned it as a teenager from a local whore who had spent her early years in Del Rio, Texas. Senhor Barbosa was a congenitally gifted storyteller.
Upon arriving in Miracema do Tocantins I mangled my small Portuguese asking directions to the bar, "O Ditador Alegre," which apparently Senhor Barbosa used as his office and salon. "The Jolly Dictator" was an earnest and industrious Brazilian's attempt at creating a cross between an Irish pub and a sports bar after having read much Graham Greene. There was a large rustically painted diptych behind the ornately carved, Pernambuco tree, bar of the Brazilian sports icon, Pele, and the much loved musician, Jorge Ben. Senhor Barbosa paid to have small portraits painted of the 19th century Swiss-American Biologist, Louis Agassiz, famous for describing Brazilian fishes and Maria Firmina dos Reis, an early 20th Century female Brazilian abolitionist and author. He had them placed on two opposing doors down a narrow hall decorated with Scottish tartan wallpaper. One, labeled "Cavalheiros," led into a very thin room with a welded plate metal urinal, the other, labeled "Senhoras," opened into a cluttered storage closet -- Senhor Barbosa felt more comfortable, with at least, the illusion that women where welcome in the establishment. The tables where small and beautifully cachaca and beer patinaed. If you've ever been in a pulque bar in Mexico you get the general feel of the place.
I asked at the bar for Senhor Barbosa. He heard and hailed me to a corner table, larger than the rest, that was supported on one side by a worm eaten bookshelf full of hardbound books, many in English, miniature local folk art and neatly stacked notebooks. He was leaning, with both elbows, on a closed laptop computer and did not get up to greet me. He repeated my name twice and shouted to the bartender to bring us cachaca. As we exchanged the usual pleasantries and personal inquiries he casually shuffled expertly sharpened number two pencils with his long, perfectly manicured fingers. "Mr. Bonham are you familiar with the tale of The Man That Married a Monkey?" he asked.
"No, I don't think so," I said
"Well, there once was a middle aged man from Miranorte, a town on the west of here. My Grandmother travelled there frequently. She had a deep fascination with and admiration for the American Girl Scouts. Later in life she persuaded my Grandfather to import the Girl Scout cookies. Grandmother took them to Miranorte and sold them house for house. She was afraid that if she peddled them here in Miracema she would be considered as somewhat unwell. She would send the money that was given to here back to the Girl Scout Headquarters in America. She and Grandfather would retain and eat a quantity of the cookies, which was considerable. They didn't send money for them back to America. I digress, apologize.
The man's name was Simao Carrico. He was an exceptionally vain man. Very proud of his thin, white like the porcelain skin. The locals called him "O Minhoca Branco," The White Earthworm, because he had inherited one of the local quartz mines and spent most of his days underground. Simao lived alone in the house he had also inherited from his Father. He lived quite frugally. He ate only the cheap cuts of beef, Feijoada -- a black bean stew and farofa mixed with warm goat's milk and onion, a truly evil dish. However, he shorted no expense on his suits of clothing or his perfumes and hair applications.
Simao was also a very selfish fellow. He had, over the years, had a few girlfriends but he would require them to eat his evil farofa mixture or give them small pieces of flawed quartz on their birthdays. He did not like them to speak in public or speak on the topics he had chosen. They would eventually lose the enchantment with his white skin and large house. In time he came to tremendously dislike women. He made his housekeeper cover her arms while she was working. He did not like the appearance of black arms making his bed.
Simao had few friends. His odd and stern ways prevented him from maintaining old friendships or making new ones. He eventually lost the very thin council he had. No one visited him in his home. He had only himself to speak with.
Then one unusually cool, much bright day in Miranorte, as he was seated in his bare courtyard, Simao was visited by a chattering, dark eyed female squirrel monkey. He chased her away with a broom, swatting at her as she scrambled over the stucco wall. She returned the next and the next, each time Simao drove her away. On a rainy Thursday she returned as usual. He ran to the corner and grabbed the broom but as he turned she came in front of him as a beautiful young woman, dressed all in furs. He dropped the broom and asked her if she was hot, could he take her coat and get her some cool water. She chattered.
The monkey returned every day to the courtyard as a beautiful young woman. One day as he was feeding her pineapple, he asked her to marry him. She chattered. The wedding was planned; however no one had ever seen his fiance'. His cousin, who was also his foreman at the mine, made all the plans, secured a photographer, prepared the food, baked the cake -- no one else would do it.
On the moment of the wedding many of his relatives and town people showed up simply to see who he was marrying. Simao pulled up in front of the church in his scratched and dented Chevrolet. The crowd started to whisper with themselves. There was only Simao and a monkey in the rattling car. His cousin ran to the car, opening the side door and inquiring why his soon wife was not there? Simao grinned largely and pointed to the monkey seated above his right shoulder. His cousin said, "That is a monkey." Simao shook his head. His cousin turned around to the local barber that was standing at behind him and told him that the monkey was the future bride. The Barber moved Simao's cousin from the way and also said, "That is a monkey." Simao shook his head and the monkey chattered.
To make a long story brief, many of the town people tried to point out to Simao that his fiance' was a monkey. They pointed out the dung on his lapel. They pointed out the pieces of torn pineapple on his car seat. They asked him to have her tell them her name, she chattered. They pointed out how she inappropriately scratched herself on this wedding day. They made notes of the smell of monkey in his car. Simao refused to believe his fiance' was a monkey. The priest refused to marry Simao to a monkey.
Simao left the church and drove to the home of a fallen priest outside of town. Simao paid him a considerable sum and he married Simao to the monkey. They all shared pineapple after the small ceremony..."From "The Man that Married a Monkey" By Franklin Cincinnatus
Vote