From Consortium News
After overseeing the aggressive prosecution and near-seven-year incarceration of Army whistleblower Chelsea Manning, President Obama -- in one of his last acts in office -- commuted all but four months of her remaining sentence but ignored the fact that he had taken no action on the war crimes that Manning revealed.
At his final news conference, Obama explained his reasons for commuting Manning's record-setting 35-year sentence for leaking classified information to the public. Manning is scheduled to be released on March 17.
"Chelsea Manning has served a tough prison sentence," Obama said. "It has been my view that given she went to trial; that due process was carried out; that she took responsibility for her crime; that the sentence that she received was very disproportionate relative to what other leakers had received; and that she had served a significant amount of time; that it made sense to commute and not pardon her sentence. ... I feel very comfortable that justice has been served."
But there has been no justice for the Iraqis and Afghans whose unjustified deaths and mistreatment were exposed by the then-22-year-old Army private, known at the time as Bradley Manning. An Army intelligence analyst in Iraq, Manning sent hundreds of thousands of classified files, documents and videos, including the "Collateral Murder" video, the "Iraq War Logs," the "Afghan War Logs" and State Department cables, to WikiLeaks. Many of the items that she transmitted contained evidence of war crimes.
In an online chat attributed to Manning, she wrote, "If you had free reign over classified networks" and you saw incredible things, awful things... things that belonged in the public domain, and not on some server stored in a dark room in Washington DC... what would you do?"
Manning went on to say, "God knows what happens now. Hopefully worldwide discussion, debates, and reforms... I want people to see the truth... because without information, you cannot make informed decisions as a public."
Callous Killings
The Collateral Murder video depicts a U.S. Apache attack helicopter killing 12 people, including two Reuters journalists, and a passerby who stopped his van to rescue the wounded. Also wounded were two children in the van. Finally, a U.S. tank drove over one of the bodies, cutting the man in half. These acts constitute three separate war crimes under the Geneva Conventions and the U.S. Army Field Manual.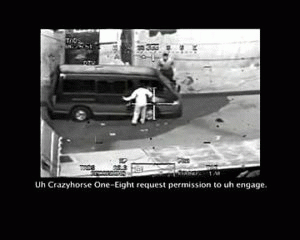 A scene from the Collateral Murder video, showing a passerby getting out of a van to help the wounded.
(
Image
by
Collateral Murder video
)
Details
DMCA
Manning fulfilled her legal duty to report war crimes. She complied with her duty to obey lawful orders but also her duty to disobey unlawful orders. Enshrined in the U.S. Army Subject Schedule No. 27-1 is "the obligation to report all violations of the law of war."
Manning went to her chain of command and asked them to investigate the Collateral Murder video and other "war porn," but her superiors refused. "I was disturbed by the response to injured children," Manning stated. She was also bothered by the soldiers depicted in the video who "seemed to not value human life by referring to [their targets] as 'dead bastards.'"
The Uniform Code of Military Justice sets forth the duty of a service member to obey lawful orders. But that duty includes the concomitant duty to disobey unlawful orders. An order not to reveal evidence of war crimes would be an unlawful order. Manning had a legal duty to expose the commission of war crimes.
Manning's revelations actually saved lives. After WikiLeaks published her documentation of Iraqi torture centers established by the United States, the Iraqi government refused Obama's request to extend immunity to U.S. soldiers who commit criminal and civil offenses there. As a result, Obama had to withdraw U.S. troops from Iraq.
Although Manning pled guilty to 10 offenses that carried 20 years in prison, military prosecutors insisted on pursuing charges of aiding the enemy and violation of the Espionage Act, that carry life in prison. Manning was not allowed to present evidence that she had been acting in the public interest.
(Note: You can view every article as one long page if you sign up as an Advocate Member, or higher).