Source: Gush Shalom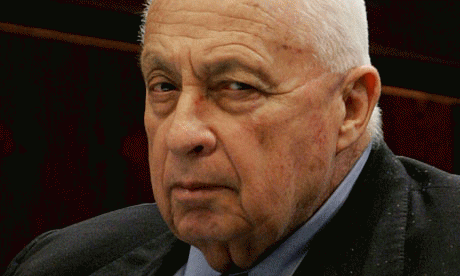 Ariel Sharon photographed in 2005 shortly before his stroke.
(
Image
by
Gali Tibbon/AFP/Getty Images
)
Details
DMCA
IN THE middle of the 70s, Ariel Sharon asked me to arrange something for him -- a meeting with Yasser Arafat.
A few days before, the Israeli media had discovered that I was in regular contact with the leadership of the PLO, which was listed at the time as a terrorist organization.
I told Sharon that my PLO contacts would probably ask what he intended to propose to the Palestinians. He told me that his plan was to help the Palestinians overthrow the Jordanian monarchy, and turn Jordan into a Palestinian state, with Arafat as its president.
"What about the West Bank?" I asked.
"Once Jordan becomes Palestine, there will no longer be a conflict between two peoples, but between two states. That will be much easier to resolve. We shall find some form of partition, territorial or functional, or we shall rule the territory together."
My friends submitted the request to Arafat, who laughed it off. But he did not miss the opportunity to tell King Hussein about it. Hussein disclosed the story to a Kuwaiti newspaper, Alrai, and that's how it came back to me.
SHARON'S PLAN was revolutionary at the time. Almost the entire Israeli establishment -- including Prime Minister Yitzhak Rabin and Defense Minister Shimon Peres -- believed in the so-called "Jordanian option": the idea that we must make peace with King Hussein. The Palestinians were either ignored or considered arch-enemies, or both.
Five years earlier, when the Palestinians in Jordan were battling the Hashemite regime there, Israel came to the aid of the king at the request of Henry Kissinger. I proposed the opposite in my magazine: to aid the Palestinians. Sharon later told me that he, a general at the time, had asked the General Staff to do the same, though for a different end. My idea was to create a Palestinian state in the West Bank, his was to create it in the East Bank.
(The idea of turning Jordan into Palestine has a generally unknown linguistic background. In Hebrew usage, "Eretz Israel" is the land on both sides of the Jordan River, where the ancient Hebrew tribes settled according to the Biblical myth. In Palestinian usage, "Filastin" is only the land on the West side of the river. Therefore is quite natural for ignorant Israelis to ask the Palestinians to set up their state beyond the Jordan. For Palestinians, that means setting up their state abroad.)
AT THE time, Sharon was in political exile.
In 1973 he left the army, after realizing that he had no chance of becoming Chief of Staff. This may seem odd, since he was already recognized as an outstanding battlefield commander. The trouble was that he was also known as an insubordinate officer, who despised his superiors and his peers (as well as everybody else.) Also, his relationship with the truth was problematical. David Ben-Gurion wrote in his diary that Sharon could be an exemplary military officer, if only he could abstain from lying.
When he left the army, Sharon almost single-handedly created the Likud by unifying all the right-wing parties. That's when I chose him the first time as Haolam Hazeh's Man of the Year and wrote a large biographical article about him. A few days later, the Yom Kippur War broke out, and Sharon was drafted back into the army. His part in it is considered by many as pure genius, by others as a story of insubordination and luck. A photo of him with his head bandaged became his trademark, though it was only a slight wound caused by hitting his head on his command vehicle. (To be fair, he was really wounded in battle, like me, in 1948.)
After the Yom Kippur war, the argument about his part in that war became the center of "the battle of the generals." He started to visit me at my home to explain his moves, and we became quite friendly.
He left the Likud when he realized that he could not become its leader as long as Menachem Begin was around. He started to chart his own course. That's when he asked for the meeting with Arafat.
He was thinking about creating a new party, neither right nor left, but led by him and "outstanding personalities" from all over the political landscape. He invited me to join, and we had long conversations at his home.
I must explain here that for a long time I had been looking for a person with military credentials to lead a large united peace camp. A leader with such a background would make it much easier for us to gain public support for our aims. Sharon fitted the recipe. (As Yitzhak Rabin did later.) Yet during our conversations it became clear to me that he had basically remained a right-winger.