The Fracking Process and its Effects
What: Robert Bauer, an engineering geologist at the Illinois State Geological Survey, will speak about oil/gas well construction, providing a brief history of horizontal wells and the hydraulic fracturing process, seismicity, results on contamination studies in the United States and where shale oil/gas resources may lie in Illinois.
Who: Chicago chapter of the Appraisal Institute
Where: Park Regency Hote , 1413 Leslie Drive, Bloomington
When: March 12, 5:30 p.m. to 9:00 p.m.
Cost: $50
Source: Crain's chicagobusiness.com Accessed 3-12-14
Robert Bauer is a busy guy. Shilling for the oil and gas industry is his assigned task. Today he brought the pro-fracking message to Bloomington, Illinois. The problem with these appearances stems from the organization that sponsors Bauer's pro-fracking message: the Illinois Prairie Research Institute. Though the organization's name suggests it conducts research that should be unbiased and scientific, an examination of the Institute's funding sources suggests the think tank has more ties to coal, oil, gas and nuclear energy than it does to groups who look critically at such energy sources.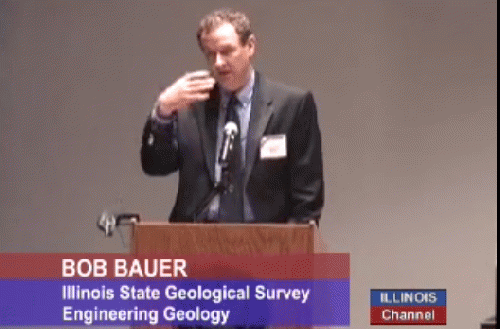 Robert Bauer
(
Image
by
Illinois Channel TV
)
Details
DMCA
Bauer Is Hosted and Quoted:
Last fall Bauer was the lead speaker at a fracking conference hosted by Rend Lake College in southern Illinois. Anti-fracking activists who attended his presentation described Bauer's talk as replete with misinformation and pro-fracking interpretations of the industry that attempted to dismiss all concerns with the process. Bauer's technique is to claim industry expertise, use enough jargon to sound convincing, and ignore any and all data from other states that document environmental and human or animal health risks connected to fracking. To examine Bauer's fracking presentation, watch a video-taped version here:
)
Bauer has stated that studies of eastern fracking sites reveal no ill effects to water supplies. "The best studies are the studies where folks go in before drilling and do sampling of the water supplies and groundwater wells in the area, and then after hydraulic fracturing and drilling has taken place, do additional sampling afterwards," he said. "Those type of studies have shown no contamination from these drilling operations, and that is what's required for their permits (in the new act.)" Eleanor Black, "Fracking Makes Its Debut in Illinois Under the Strictest Regulatory Laws in the U.S.," Daily Illini, October 24, 2013, http://www.dailyillini.com/news/local/article_ccff98ce-3c55-11e3-8440-001a4bcf6878.html. Accessed 3-12-14. Critics of Bauer's position note that the timing of the post-fracking water sampling carefully avoids those times when the most radioactive and chemically laden liquids will flow back onto the fracking site.
(Note: You can view every article as one long page if you sign up as an Advocate Member, or higher).