"If the doors of perception were cleansed everything would appear to man as it is, infinite." William Blake
After the new birth of the Spring Grand Cross and Taurus' grounding of this cosmic energy, the Sun has entered the sign of Gemini, the Twins. This is the sign of the Mind and how we use it. Will we take the long view (the immortal twin) or the short view (the mortal twin)? And can we let everything we think we know go and see with new eyes and feel with a new heart? Can we learn to see the infinite?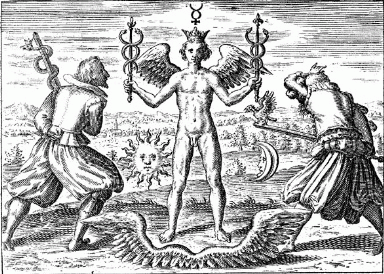 Alchemical Hermes
(
Image
by
Second Key of Basil Valentine
)
Details
DMCA
Mercury is said to rule Gemini, because Mercury is the archetype of the human Mind. As a Mercury-ruled person, I shouldn't have been surprised that my computer fell sick (I know it's a machine but maybe it's a person too?) just as the Sun entered Gemini and Mercury entered the shadow of its retrograde. Ah, have I mentioned that we're approaching another Mercury retrograde period? Mercury goes retrograde on June 7th until July 1st, traveling from 4* Cancer back to 25* Gemini. As many of you know from personal experience, Mercury rules breakdowns in communications--often in our computers. (Such as the devious breakdown of the Health Care site during the Mercury retrograde in Scorpio last year.) Travel is also another source of breakdown, but 'going backwards' gives us time to re-think, re-do, re-imagine, re-claim, re-generate. So if you're stuck in an airport, take it as an opportunity and look for the adventure waiting to happen to you, rather than looking at your phones.
Mercury turns retrograde on June 7, 2014 at 4:57am PDT/ 7:57am EDT/ 11:57am GMT. It will be retrograde while the Sun travels through the signs of Gemini and Cancer. We need to re-think how we think and learn to be open to what we feel.
The Sabian symbol for Mercury at 4* Cancer is: A cat playing with a mouse. We see in this image a cruel objectivity, an ability to commit an action that, while part of our human nature, goes against our spiritual morality. But some of our favorite cartoons tell us that Tom and Jerry are worthy opponents--they seem to enjoy their adventures, their play. Which is the truth? Perception is everything. As a symbol, this image speaks of pinning down mouse's very detailed-oriented perceptions by our cat-like 6th sense which sees into the unseen and knows what is un-spoken. Perhaps their play creates reality. Or at least a truer vision of reality.
Just as the sign of Gemini is ruled by the Twins--one immortal and one mortal--we have different ways of perceiving reality. Patriarchy would have us see reality as It wants us to, and for a long time, most of us did. But now we are waking up to other realities, and we are seeing the deadness of many of the patriarchal institutions that are the foundation of our society. We need to hold the tension of opposites in our minds, the mortal detailed-oriented way of perceiving Life and the immortal mystical vision of Life. When we hold onto this tension, a third way will open before us, one that combines both the details and the vision. We get to listen to what our souls want and unite it with our concrete minds.
"It is man's intelligence that makes him so often behave more stupidly than the beasts. ... Man is impelled to invent theories to account for what happens in the world. Unfortunately, he is not quite intelligent enough, in most cases, to find correct explanations. So that when he acts on his theories, he behaves very often like a lunatic." Aldous Huxley, Texts and Pretexts (1932), p. 270
The purpose of the Mind is to bring the Soul to consciousness.
As the archetypal energy of the Mind, Mercury symbolizes all the ways culture has learned to use the Mind: to understand the mysteries of Life; to strategize in war and peace; to do business; for the Arts. Mercury is the Messenger of the Gods, traveling between realms. Hermes (the Greek Mercury) was the god of travelers, business men and thieves. He was the Psychopomp who led souls to the afterlife.
Mercury's attributes are fitting symbols of the way the Mind works. At its highest, the Mind can travel between different world, different kinds of consciousness--between the left and right brains, exploring the mysteries of Life. Our right-brain imagination and intuition gives us the information we need so our left-brain rationality can name, shape and transform our understanding of things and our world. The Mind will strategize--if we train it--in war and peace, and in relationships. When the Mind is only functioning from the masculine, left-brain, we are turned over to the dark side of the Force--rationalization, hierarchical thinking and too much objectivity. This in turn leads to strategies based in greed and domination. Hermes the Thief is another of Mercury's attributes! As for Mercury ruling business--that can go either way. The way of greed or the way of fairness that brings a profit but doesn't go overboard.
Gemini New Moon, May 28, 2014
The Gemini New Moon occurs on May 28, 2014 at 11:40am PDT/ 2:40pm EDT/ 6:40pm GMT.

Gemini is the sign of the Mind, a twin sign that signifies the human mind's capacity to see things from different perspectives. To perceive means to 'apprehend or seize thoroughly'. It takes a large mind to be able to do this from different perspectives. Our usual Mind default is to rely on our left-brain rationality which upholds patriarch rules and perceptions, and which tends to ignore our right-brain feelings and imagination. This masculine consciousness then supports one way of understanding over another. It's an either/or mentality. If we allow right-brain imagination to be the Mind's grounding, we can learn to see things from many different perspectives--accept both this and that. That is the challenge and the gift of Gemini.
(Note: You can view every article as one long page if you sign up as an Advocate Member, or higher).