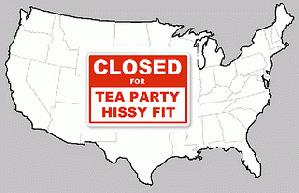 Federal Shutdown Explained

(

Image

by

Mike Licht, NotionsCapital.com

)

Details DMCA

/>Federal Shutdown Explained by Mike Licht, NotionsCapital.com


On Sept. 24-25 Senator Ted Cruz (R-TX) stood on the Senate floor for 21 hours and 19 minutes to rant against Obamacare. Cruz presented himself as fighting for our freedom. As he put it: "Defund ObamaCare because it takes our freedom away."

Rush Limbaugh cheered him on: "It's precisely what Obamacare is all about, the loss of individual freedom, the loss of free markets. Ted Cruz is fighting for freedom in the greatest tradition of American freedom fighters."

They must be talking about the freedom we used to have before Obamacare (The Affordable Care Act, or ACA), back when we were still enjoying the benefits of what Mitch McConnell calls "the finest health care system in the world." In those good old days we were free to go without health care if we were among the millions who couldn't afford it or were denied insurance because of pre-existing conditions. We were free to go bankrupt when the cost of cancer treatment exceeded the ceilings in our policies.

Because President Obama and the Democrats refuse to restore these "freedoms," House Republicans shut down the government on Oct. 1. They're also threatening to block an extension of the national debt limit, which would cause the U.S. to default.

Obamacare will have problems in implementation, such as glitches in the software for insurance exchanges or perverse incentives for companies to cut their employees' work hours in order to avoid having to provide them health insurance. Republicans complain loudly about these problems.

If their concerns were genuine, Republicans could have insisted on fixing the ACA as a condition for continuing to fund the government. They've had plenty of time to draw up remedial legislation. But they haven't done so. Instead, House Republicans have obsessively voted 43 times to repeal or otherwise undermine Obamacare.

Are Republicans serious about the ACA being a threat to freedom? What could Sen. Ron Johnson (R-WI) have meant on Jan. 16 when he called Obamacare the "greatest assault on freedom in our lifetime"? If there was any truth to his claim, then the tactic of defunding government or causing a sovereign default might actually be justifiable. A similar case could have been made about the 2003 invasion of Iraq. For those who saw it as a war of aggression based on lies, refusing to fund the government would have been proportional to the great harm they believed the invasion would inflict.

As Dean Baker said on Oct. 3 in Aljazeera America, the GOP needed to appeal to a great cause in order to justify an extreme tactic. And what cause could be greater than defending our freedom? The problem is that their defense-of-freedom argument is utter nonsense.

The core of the GOP argument is that the ACA's mandate for individuals to purchase, and companies to provide, health insurance is an assault on our freedom and a "government take-over" of health care. It requires uninsured individuals (with some exceptions) to purchase insurance through their state exchange or pay a tax penalty. And all businesses with over 50 full-time equivalent employees must provide health insurance for their employees or face a tax penalty.

If the GOP really believes that Obamacare violates our freedom, then it should be mobilizing minutemen and armed Tea Partyers against Medicare. Like the ACA, Medicare uses a universal mandate and is funded by payroll taxes that every American worker has to pay. However, Obamacare makes much greater use of the private insurance market than does Medicare. In GOPese, it preserves more of our "freedom."

I am one of the 50 million Americans enrolled in Medicare. After five years as a beneficiary, I find that my freedom is not only intact, but enhanced. I continue to see the doctor of my choice, and the medical care I receive now is at least as good as before.

But I'm now free from the worry that some insurance company would refuse to renew my policy if I become seriously ill, or that this illness would max out my policy. I feel more secure now that my "protection' doesn't come from a corporation that maximizes profits by denying care to policyholders and by "insuring" the healthy while dumping those who get sick.

So I was really glad to get away from Mitch McConnell's "finest health care system in the world." Obamacare is trying to extend to the rest of America the enhanced freedom retirees and the disabled get from Medicare.

That's why Obamacare has mandates--so that the risk of catastrophically expensive illness is spread over the entire population, thereby lowering fees for everyone. That's what insurance is all about.

Security in this sense doesn't reduce freedom; it increases it. Protection from ruinous medical expense, and knowing you will have good medical care if you need it, constitute security from violence or invasion. By providing this security, society liberates people from unnecessary fear so they can better concentrate on excelling at what they do.

(Note: You can view every article as one long page if you sign up as an Advocate Member, or higher).