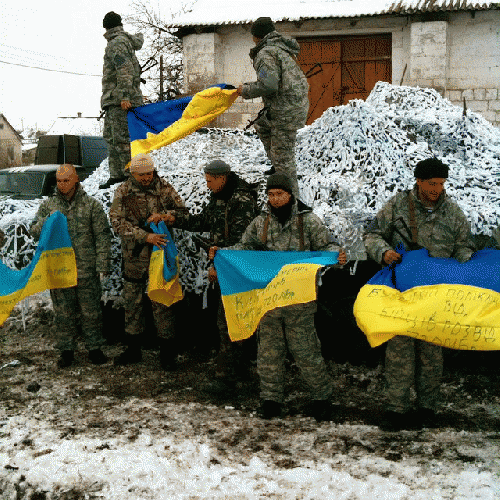 Ukrainian soldiers in Donetsk by Geoffrey Froment @flickr
(
Image
by Geoffrey Froment @flickr)
Details
DMCA
Refugees and immigrants have been at the forefront of international news since early summer, spiking drastically after a picture of three-year-old boy Aylan Kurdi, drowned at sea and washed up on a Turkish beach on September 2nd, went viral. The emblematic photo seemed to awaken the conscience of many Europeans, as witnessed in the following week by welcome committees all over Germany and "Refugees Welcome" rallies across the globe. In the midst of all this, a different refugee crisis flew under the radar in Ukraine. According to a UNHCR fact-sheet published in July, 1,382,000 Ukrainians have been displaced since the start of the conflict. What differentiates this exodus from Middle Eastern and African migrations is that the majority of Ukrainians are displaced internally rather than looking to cross international borders. Amongst the Ukrainians driven towards the West by the threat of war, 60% are pensioners and 12% are children. Families are forced to separate and live where they can afford to, in dormitories and squats. Only 5% of these displaced Ukrainians have benefited from designated government homes over the past year and the monthly aid issued to them is no higher than $20 per month. Apart from the few that found work after having fled Eastern cities, rising unemployment leaves only the meager promise of odd jobs and perpetual instability.
For the displaced Ukrainians who are searching for safety abroad, Poland is one of the most accessible destinations. Ukrainians there make up a fourth of Poland's immigrants. Polish President Andrzej Duda has stated this fact to justify his reluctance to take on refugees coming from the South. Unemployment rates in Poland were at 10,3 % last June and it is of no surprised that the far-right leader would jump into discussions keen on showing the world that they already have their share of asylum seekers. However, the illusion of Poland's actual intake is much stronger than its numbers.
An Ipsos poll from July 23rd asked Poles what they believed was the percentage of foreigners in their country, a fourth of which set the number at over 10% when the reality is that less than 1% of the Polish population (38 million) is foreign. Above all, the numbers that truly contradict President Duda's claims are the 1,284 Ukrainian asylum requests made earlier this year, all of which were denied. When compared to Germany, who is predicted to receive 800,000 asylum requests over the next year, Poland's cause for concern is derisory -- especially considering that the largest number of Ukrainian refugees fled towards Russia instead. As a European Union member, Poland still acquiesced in welcoming 1,100 asylum seekers from Greece and Italy over the next two years, as well as 900 UN refugees. This number, however, was negotiated down from the 3,261 initially requested by the European Commission.
Perhaps the reason why Ukrainian refugees are seldom spoken of is that it is hard to fathom how the situation could have reached such a critical point. The UN stated that 1.4 million Eastern Ukrainians were in "urgent humanitarian need". Aid organizations on the scene, or keeping a close eye on it, such as Doctors Without Borders, Human Rights Watch and Amnesty International, have all been reporting the precarity of the situation in areas that are difficult to reach because they are so destitute. The Ukrainian government has issued multiple policies that have made a disastrous situation even worse. As far back as in November, Kiev cut off the life-lines of its Eastern citizens by ceasing pension distribution, limiting access to resources and imposing a blockade on goods in rebel-held territories, this just before the start of an extreme winter. Kiev is essentially amputating one of its diseased members, the region of Donbass, rather than salvaging it and treating it to the best of its ability. The older generations stranded in Eastern Ukraine have had to employ methods of survival reminiscent of "The Great Patriotic War", where they live out of crumbled buildings. During this time, states are primarily concerned with geopolitical struggle and are failing at the most elementary task: ensuring the welfare of their people.
Moreover, a growing social disparity in the capital shows a stoked hostility towards Easterners who are being stigmatized for belonging to the region that started a war. The State is in part responsible for this attitude, as it failed to set an example when it left it entirely up to volunteer organizations to help Internally Displaced Peoples. A lack of accurate information concerning the evolution of the conflict is also source of misguidance. Renewed acts of violence are attributed to separatists even when nationalists are behind them. All these factors (Russian opportunism, Kiev's inadequacy and popular ignorance) are blurring the situation. The polarization of Ukrainian politics has reached such a high level that former statesmen exiled to Moscow and now thought to be plotting their return home in an attempt to unify different factions. The former Minister of Tax and Customs Oleksandr Klymenko has even released a series of strangely entertaining videos to test the waters for an imminent return to domestic politics.
Early in September, Petro Poroshenko said he was witnessing the longest ceasefire on record since a year-and-a-half ago, but this hint of hope was not enough to motivate any dialogue with the rebels. Russia is also teetering on a ledge, as some speculate that their military tactics will veer towards Syria instead to provide assistance to Bashar al-Assad's regime. Only three days ago, former Finnish President Martti Ahtisaari revealed that Russia had proposed Assad's resignation as a part of a peace deal back in 2012, a possibility that was never seriously taken into consideration by any of the Western states. Given our broad view of not one, but multiple refugee crises and countless deaths over the past year, this information truly puts policy-makers games into a harsh perspective.