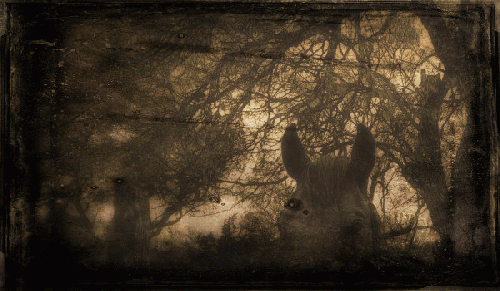 The Empathy of Beasts
(
Image
by
Kevin Tully
)
Details
DMCA
Empathy is what makes us special. Empathy distinguishes us from most of the animal kingdom. However, and unfortunately, empathy is becoming a rapidly atrophying appendage of our collective American consciousness. I have tried to write about what is going on politically with the Republicans lately, but it is so stupid, ugly, shameful, disgusting and inevitable that I failed. I have decided instead to simply write a little ditty about empathy:
Cro, short for Cro-magnon, was minding his own business, eating snails that he'd found amongst matted herbaceous broadleaf litter under the fetid corpse of a rotting eohippus that had been felled by a sudden hail storm with ice globs the size of grapefruit. Being a proto-human, with a bad case of anxiety disorder -- he had witnessed his mother felled and eaten by a pack of cave hyenas -- he was very afraid of loud noises, especially high pitched howling. The storm had raged for three days, keeping him holed up in a cave with a relatively friendly family of voles and a tortoise. He was very hungry. The average Cro-magnon would have eaten the voles or the tortoise.
He had mated once after his family group had joined with another band in the killing and roasting of an old, lame woolly mammoth. He was infatuated with a young woman, called "Honey Girl', she was very fond of wild honey and unfortunately had very bad teeth as a result. Cro thought she had a pleasant smile anyway. He thought of her while he was trapped in the cave. He woke once from a dream and thought he saw one of the voles smiling at him -- he wondered if it was a female vole?
Cro was so very hungry and finding the crunchy snails was a godsend. Unfortunately he was popping the tasty little mollusks into his mouth at too rapid a rate. One lodged in his throat -- obstructing his windpipe. With eyes bulging, he staggered and fell to his knees -- beating his breast with both hands. Losing consciousness, he had a vision of Honey Girl holding the smiling vole, riding on the back of a snarling cave hyena across a snow covered plain.
Suddenly he felt a sharp pain as his head was wrenched backward and something meaty and alive was thrust into his mouth. He felt a tearing in his throat. The pain increased. Then moist air rushed into his convulsing lungs. His sight returned. Standing in front of him was an older Neanderthal male holding the bloody snail in his large filthy hand, glistening with saliva in the harsh light of the falling sun.
Cro tried to call out but the pain was too intense. The Neanderthal nodded repeatedly as he lay the snail beside the decomposing eohippus. He then pointed to a pool of clear water that had collected in a large indentation in a protruding shelf of igneous rock. He nodded again, then turned and slowly walked southwest into the setting sun. Cro sat rocking side to side, spitting blood, looking after the slowly shrinking Neanderthal -- his mind awash with pain, confusion and appreciation.