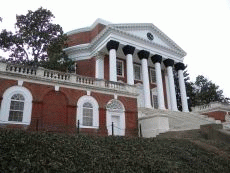 University of Virginia Rotunda

(

Image

by

Marcello Rollando

)

Details DMCA

There is no innocence in electing those who pretend to be ignorant to win votes from those herded into non-thinking Gerrymandered districts -- and no stupidity in politicians reaping the reward, except perhaps, Downton Abbey Representative Aaron Schock -- but we have bigger elephants, than temper tantrum McCain lecturing Obama on temper, temper, in the room.


Relegating African-American history to February and Herstory of Women to March, encourages short term memory loss regarding both for ten months a year, and diminishes the whole of America's identity.

Not binding our hardcover history with the history of African-Americans and women creates a vacuum in our electoral process and disconnects non-whites from the non-thinking elephants in the back rooms of Corporatism, police units, campuses, Congress and Town Hall meetings.

It is not our bankruptcy in math and science education that is impoverishing our national intellect. It is the inherited closed minds we continue to allow to define what education is, and is not.

Citizens united on FB against Scalia, Alito and Roberts ignoring the reality of America's 21st century racism, while gutting our 1965 Voting Rights Act, is deficient patriotism. When Social Media isn't enough, we need educate with the art of coffee house enlightenment.

While ignored by Supremes and seemingly just discovered by our media:

All Life Matters

Racism did not end in 1865 or 1968

Without ERA ratification, Women are Not Constitutionally Equal

Without gender, racial and sexual equality, there is no equal economic opportunity

Student loans and Great Recession sacrifice our future on the altar of the top 1%

Oil Industry, like Shell in Norco Louisiana make money by endangering lives & environment

Perpetual war costs could put solar panels on every American home

Fraternities are time capsules of boys where women have neither voice nor vote

There are many honorable uniformed law abiding citizens, but too many uniforms are shielding racists and rapists from Due Process

Tom Cotton, Ted Cruz and Rick Scott are not the only reality deniers elected by reality deniers

(Note: You can view every article as one long page if you sign up as an Advocate Member, or higher).