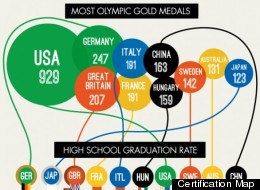 I admit, to being a bit "dumb about the subject of education" right off the bat. My usual "playground" is writing articles on economics, science, and politics...well, when I went to school those were considered fair areas for study too.
But I've been reading the works of Susan Lee Schwartz on Opednews. And just as importantly, here in NYC, we are Ground Zero for "educational reform" as it's called by its supporters, and a sort of educational hollowing out, as its growing and vociferous group of critics contend.

One thing has been glaringly clear for a generation now, whatever the cause, America's children are trailing the world.

There are as many reasons for this as there are ways to measure it:


But the end result is clear.
Nearly half the country thinks the world was created in less than 10,000 years, and some even eagerly watched the debate between Bill Nye (The Science Guy) and Ken Ham (The Creationist Man?). A debate like this should never have happened, since it is comparing Apples to....Eve's Apple, Reality vs. Myth (and not even myth originating in the Bible, as claimed, either). I don't know whether to feel upset or pleased that most Creationists don't even know their date of Biblical Creation comes from the calculations of Bishop Usher, a 17th-century "religious scholar" - today those two words are mostly an oxymoron...and how many children know what the word "oxymoron" means either?
But one could take potshots at the poor children and the adults they become all day. That would be making fun of the truly disadvantaged.



Technologists like Bill Gates think they have the solution: identify the problem and then throw scads of money at it. Fixing a child is no different than coming up with a new version of the Windows operating system! That sounds good, until one learns Gates basically reversed course.
Says long-time uber-educator Diane Ravitch - herself known for reversing course on charter schools, and irritating both her supporters and critics - on her blog:


I read this article "by Bill Gates" with a growing sense of incredulity.

I kept hearing echoes of many things I and others have written since Gates decided to make teacher evaluation the biggest crisis in American education. In 2008, he dropped the small schools movement and determined that teachers are our biggest problem. If we had a better way to evaluate them, schools could fire the bad ones and have only good ones.

No one did more to push the idea that teachers should be judged by the test scores of their students. No one had more influence on Race to the Top.

Now he says that test scores are not the only way to identify great teachers. They might not even be the best way.

Now he is worried that there is a growing backlash against standardized testing and he says he gets it.

He even concedes that tying pay to test scores is offensive.

Let us take him at his word. Let us take yes for an answer.
(Note: You can view every article as one long page if you sign up as an Advocate Member, or higher).