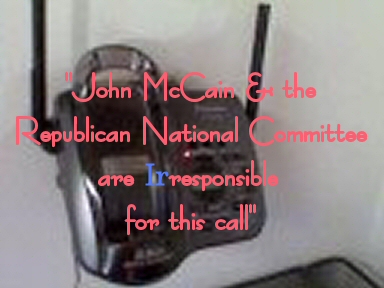 There has been a lot of discussion of John McCain's demeanor during the presidential debates. More important, though, has been the demeanor of his campaign as a whole.
Demeanor refers to the way in which someone behaves toward other people. In comparison with Barack Obama, John McCain's behavior toward his opponent and toward the voters has shown repeatedly that he is "da meaner" candidate.
During the final presidential debate on Wednesday evening, Sen. McCain said, "I don't care about an old washed-up terrorist" and "I have repudiated every time someone's been out of line, whether they've been part of my campaign or not, and I will continue to do that."
Yet his campaign had just released a commercial claiming that Sen. Obama and "domestic terrorist Bill Ayers" are friends who have been closely associated for years. Republican parties in battleground states distributed pamphlets saying "Obama Has Close Ties to Domestic Terrorist" and showing a photo of Obama next to a quotation from Ayers, "I don't regret setting bombs. I feel we didn't do enough," to lead voters to think that the words are Obama's.
And the day after McCain said he would continue to repudiate anyone in his campaign who got out of line, his campaign got on the lines with a massive nationwide robocall effort that begins with: "Hello. I'm calling for John McCain and the RNC." The automated calls tell those who pick up their phones that they "need to know that Barack Obama has worked closely with domestic terrorist, Bill Ayers, whose organization bombed the U.S. Capitol, the Pentagon, a judge's home, and killed Americans."
We are all familiar with tag lines at the end of a political campaign commercial that say something like, "The Democratic Senatorial Campaign Committee is responsible for the content of this advertising."
McCain's "terrorist" ads, pamphlets, and calls should have a tagline saying, "John McCain and the Republican National Committee are Irresponsible for the totally misleading content of this advertising."
Or: "I'm John McCain, and I approve this lying message, which tells you all you need to know about me."
Historian Robert S. McElvaine is Elizabeth Chisholm Professor of Arts & Letters at Millsaps College. His latest book is Grand Theft Jesus: The Hijacking of Religion in America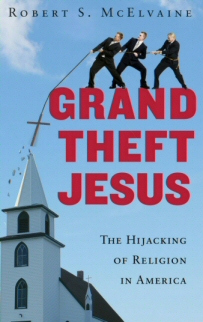 (Crown). He is currently at work on a book on America in the 1960s, Oh, Freedom! (Norton).